14 July 2021
I would like to thank all parents and carers for their steadfast support over this very challenging year. I am extremely grateful for your support of the decisions the College has made throughout the pandemic and I look back on the past 12 months with a sense of great pride in how staff and students have dealt with the extraordinary circumstances brought about by the virus and the lockdowns.
I am sure you either heard or watched Boris Johnson last week telling the nation about the Government's roadmap out of lockdown and what this means for schools next term.
The Government has stated that it will no longer recommend that it is necessary to keep children in bubbles, wear face coverings (these may still be worn if students or staff wish to do so) or self-isolate other than when a student has received a positive PCR test. Assemblies can resume, changing rooms for PE can be used and we no longer need to make alternative arrangements to avoid mixing during the College day. We will be able to go on day trips and residentials and have visitors into the College!
However, we will still have in place some necessary proportionate control measures such as maintaining appropriate cleaning routines, keeping classrooms well ventilated and continuing to remind students about good hand and respiratory hygiene practices. I will outline these to you in more detail next term.
From September we will have an outbreak management plan in place that covers the possibility that in our local area it may be necessary to reintroduce measures for a temporary period, to reduce the spread of infection.
If, during the Summer holidays, we receive any further guidance which changes our plans for the start of term I will, of course, notify you via our usual methods of communication.
Testing at the Start of Term
The Government has announced that students should be offered two lateral flow tests on site in September with the first test being taken as soon as possible at the start of term. This repeats the process that we went through earlier in the year where we set up the Sports Hall and tested two year groups per day. Our plans for this are:
Date

Year groups in for testing (students only attend for test and go immediately home)

In College - Normal Timetable

At home all day

Wednesday 1/9/21

Years 7 and 12/13

INSET day

8, 9, 10 and 11

Thursday 2/9/21

Years 11 and 9

Years 7 and 13

8, 10 and 12

Friday 3/9/21

Years 8 and 10

Years 7, 9, 11 and 13
Year 12 Enrolment

Monday 6/9/21

All year groups
This obviously means a staggered return to College over the first two days of the term (the Wednesday being an INSET day). It also has an impact on the induction arrangements for our new Year 7 students. The induction, consisting of brief presentations from key staff, a tour of the College and lessons will now take place on the morning of a full day on the Thursday. This arrangement has the additional benefit of Year 7 being the only year group in main College on that day.
There will be a second test for each year group in the following week whilst students are in College after which home testing kits will be issued for students to use twice per week.
College Day Structure
One of the positive practices that we intend to keep post-COVID restrictions is the structure of the day and separate social times. A split break/lunch does allow year groups to have their own space, it is popular with students and staff and we have noticed that this has led to a calmer and more relaxed atmosphere at breaks and lunchtimes. A copy of this structure is reproduced here for your information:

GCSE, AS and A Level 2022 Consultation
You may be interested to know that The Joint DfE/Ofqual consultation on 2022 general exams is now live, closing on 1 August. The starting position is that exams will go ahead this year, although with adaptations to reflect the impact of the pandemic on candidates' learning. The Government and Ofqual's proposal are to extend the adaptations that had been discussed for this Summer's series, had it gone ahead, to next year's series.
The key proposals are:
Topic-level optionality in GCSE English Literature, History and Ancient History; and choice of content in GCSE Geography.
Advanced notice of content on the exams in the Spring term for most other GCSEs, AS and A Levels.
Changes to practical assessment in Science subjects and Art and Design.
Exam aides/support materials in Maths, Physics and Combined Science exams.
Summer Facilities Improvements
As always, the Summer break provides us with an opportunity to carry out works to improve the site and a busy programme of capital projects is planned during the holiday period. Below are details (and some artists' impressions) of the major improvements students can expect to see in September and beyond.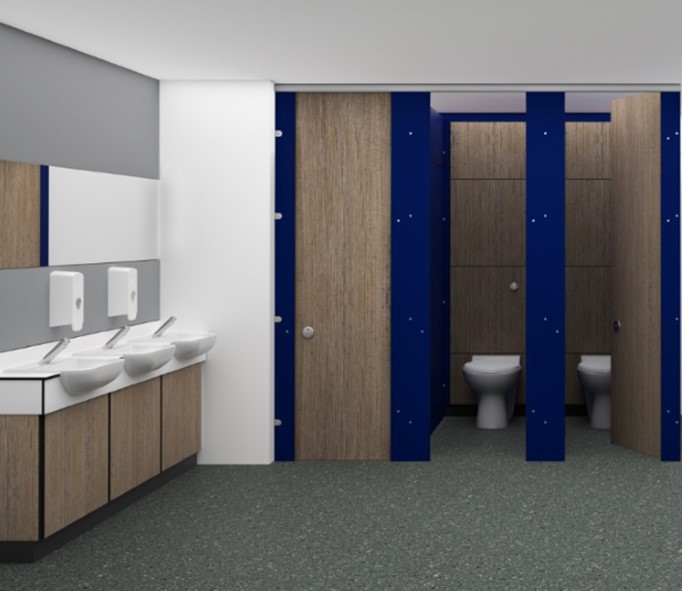 Washrooms – Kingston building
All washrooms in Kingston building will be remodelled and refurbished to a high standard, introducing full height cubicles for improved privacy. Feedback from students helped to inform the modern, professional design.
Kingston Theatre Lighting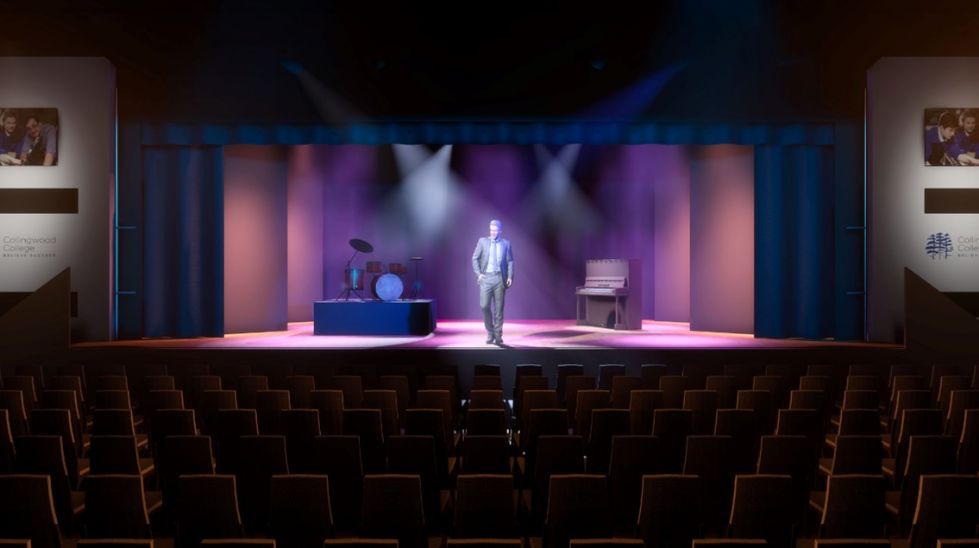 A brand new LED lighting rig installation will be fitted in Kingston Theatre, providing a major upgrade to the equipment available to our Performing Arts department. These improvements will create exciting new possibilities for College productions, music recitals and events.
Sixth Form Common Room
Work will start on the refurbishment of the Sixth Form common room over the Summer. Improvements will include new LED lighting, flooring, dining furniture and flexible social/breakout space. Some elements of the project, including the creation of an outdoor social area for the Sixth Form, will be completed over the course of the next academic year. This is an exciting development for our Sixth Form, building on the improvements made with the introduction of our Sixth Form Study Centre in 2019.
Successful Condition Improvement Fund (CIF) Bid – Fire Doors and Compartmentation
While the majority of the work to upgrade fire safety and replace fire doors in Kingston building will be undertaken during the next academic year, surveys and preliminary works will be taking place during the Summer as work starts on this major project which represents an investment of almost £700,000 in the College's facilities.
Finally, I would like to wish everyone a very healthy, happy and enjoyable summer holiday.
Mr Tanner - Principal