Year 11 Student Receives Special Recognition Award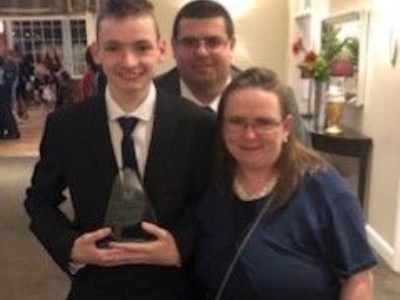 The Knights Foundation present Jake Gaines (11G) with a 'Children of Courage' Award.
On Friday 16 November Jake Gaines (11G) and his family attended The Children of Courage Awards at Warbrook House in Eversley.
The Awards are a product of The Knights Foundation which is an organisation that helps families of disabled children. The organisation came up with the idea to run an award ceremony called The Children of Courage in order that the children in Surrey, Hampshire and Berkshire are recognised. One of the teachers at Portesbery School, where Jake's younger brother Thomas attends, asked if she could nominate Jake as they realised how much he has been through.
A panel met on Thursday 18 October to go through all the nominations. The panel consisted of sponsors of the awards which included Eagle Radio, Pertemps, Head Teacher of Portesbery School, Knights Training Academy and many other people who have involvement with the Knights Foundation. We then received a phone call from the teacher saying that Jake had made the finals and the family were invited to attend a special awards ceremony at Warbrook House.
At the presentation evening Jake received nominations in three categories but the award he won was called the Special Recognition Award. His award was announced by Jamie Knights who is from the Knights Training Academy who described the family story and then Jake was presented with the award by Kev Orkian who was on Britain's Got Talent.
Jake said he was very emotional about the award - he feels happy, excited and very proud of himself for being so strong over what has been a hard few years for all of us, but especially Jake.
Mr and Mrs Gaines