Year 9 Student has Letter Published in The Daily Mail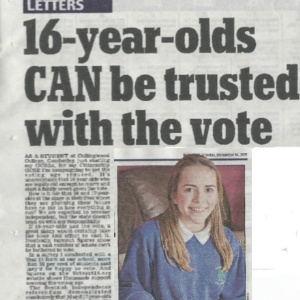 Ellie Heritage's views regarding lowering the voting age to 16 were recently published in The Daily Mail.
Year 9 student, Ellie Heritage, wrote to the newspaper and also had a meeting with her local councillor discussing issues and benefits of lowering the voting age as part of her Citizenship GCSE project. She is studying lowering the voting age and was able to spread the word to many people in an easy way - through the media. The Daily Mail replied asking to publish her letter in their newspaper and she agreed. On Monday 14 December her article was released as shown above. She believes that everybody should have a chance to say how they feel and how the country is run. At the age of 16 you can have children legally, get married, join the army, etc. Why shouldn't 16 year olds be able to vote?
Not only was Ellie's article published in the Daily Mail, she also won the letter of the week award. She received a mug and a letter from the Daily Mail informing her of this achievement. Ellie's family are extremely proud of her success.