Students Showcase Musical Talent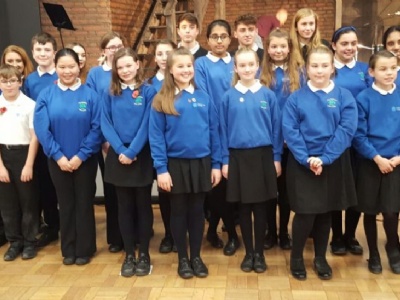 Amazing performances by Years 7-11 students at Autumn Concert.
On 9 November 51 performers from Years 7-11 showcased their amazing musical talents. Ensemble performances were given by the Collingwood College Orchestra, Choir, Rock Band and Year 9 Arts Award class.
The Concert began with a Medieval piece - 'Danserye' performed by the Orchestra which included professionally executed solos from Chris Gurd (Trombone), Lauren Coles (Clarinet) and Dylan Davies (Violin). This was followed by a Grade 6 Piano solo 'Over the Rainbow' by a Year 7 student Jake Pang.
Popular pieces were performed by Shree Singh (Piano), Isobel Cox, Tayana Dube, Catherine Voss, Elizabeth Brown, Aimee Corr (Voice) and Toby Wright (Drums). Classical and Jazz renditions were heard from Eva Moran, Alice Azoula-Cowell, Lauren Coles (Clarinet), Wendy Li, Lauren Bennett (Clarinet), Dylan Davies (Piano) and James Alcock (Trumpet). The Choir continued in the Jazz idiom with their performance of 'Puttin' on the Ritz'.
Jonathan Cox, Year 7, performed the Jimi Hendrix guitar 'Classic' – Foxy Lady with musical precision and presentation with 'moves' on stage that had the audience totally gripped.
Three students sang whilst accompanying themselves – Georgia Carr on Piano, Millicent Brodie Cooper on Ukulele and Alanna Weeks on Guitar.
The Year 9 Arts Award in Music class showed off their musical talents and concentration skills when they performed 'Time Lapse' by Michael Nyman – a piece with 9 different musical parts that enter one after the other lasting 5 minutes in total.
The concert ended with the 'Rock Band' – Matt Bolton/Tommy Bolton/Dan Glendinning performing an original piece by Matt 'Sunday League Heroes' and 'A Town Called Malice' by Paul Weller.
Miss Pugh - Head of Music Department