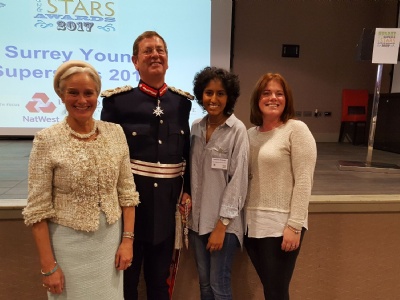 Double Celebration for Jasmine at the Surrey Young Superstars 2017
It was a pleasure to attend the Surrey Young Superstars 2017 Awards at the Guildford Harbour Hotel on Sunday afternoon to celebrate the achievements of so many young people, including our very own Jasmine Dhaliwal. The Surrey Young Superstar Awards were presented by H.M. Lord-Lieutenant of Surrey, Mr Michael More-Molyneux following an afternoon tea with all the nominees and official representatives.
Jasmine is a Year 12 student who was awarded the most Courageous Superstar and was nominated by Miss Goggin. Jasmine is a student who epitomizes courageousness. In Year 11 whilst studying for her GCSEs she was diagnosed with Leukemia. Jasmine underwent months of gruelling chemotherapy treatment whilst attending her lessons and came directly from intensive care to sit her GCSE exams. She is a source of encouragement and motivation for many of her peers and on results day was rewarded with exceptional grades.
The surprise of the day came when the overall Surrey Superstar of 2017, as voted for by the judges was revealed and Jasmine was announced as the winner – an emotional and extremely proud moment for Jasmine and her family! The Surrey Young Superstar 2017 Award was presented by The High Sheriff of Surrey, Robert Napier CBE and The Chairman of Surrey County Council, Mrs Sally Marks.
Jasmine is still having treatment but continues to show real grit and determination. Her commitment to her studies is inspiring and she has never let her dream to study medicine deter her.
Congratulations Jasmine!