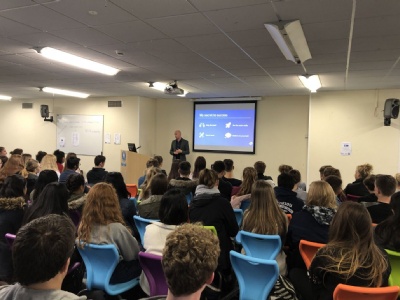 Collingwood gets a visit from the Managing Director of CV Library
Collingwood Sixth Form was very lucky to be visited by Lee Biggins, Managing Director for CV Library: one of the UK's leading job boards, dedicated to helping candidates locate the jobs that match them. Year 12 and 13 joined him in a wonderful presentation in the common room on Tuesday 14th November as he inspired the students with his story of how he went from' rugs to riches'. He offered them amazing advice about what makes you employable, what employers look for and how to write a CV; highlighting that with employability being high you need to stand out to be noticed, followed by more great guidance. With one quote sticking in their minds "If you work hard you can get your dream job" Lee ended his presentation with a Q&A.
Hoping the students take on board this advice, we now have a sixth form full of employable students!
Many thanks to Lee Biggins.