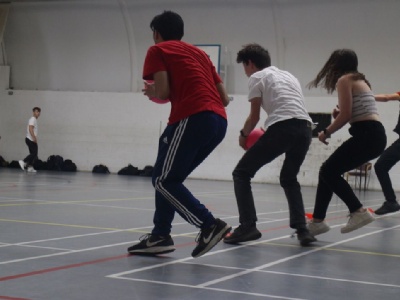 The week kicked off with the double denim met gala event. Students from both years 12 and 13 arrived at college adorned in the fashion faux pas. The day progressed all leading up to lunch.
The. Met. Gala.
Wrapping paper, newspaper and binbags galore! From trash to treasure students created their red carpet looks- though, some more elegant than others. With some supplies gathered by our head girl Shree, and others from different departments across the college, the met gala was a go!
Tuesday was a throwback to before most of us were born. Back to the year 2000. With looks inspired by noughties classics students were psyched to hit the common room. The day was building up to an off the hook 2000's music quiz however technical difficulties struck, which was whack. Okay, I'll chillax now. Instead, the SPT played some throwback bangers featuring the likes of Beyonce, Sean Kingston, blink182 and many other classics. Whilst the original plans didn't go through, the SPT improvised like no tomorrow to save the 2000's lunch time.
On Wednesdays, we wear pink. And that the students did, from baby pink to hot pink the students dressed to impress. The outfits worn were as Gretchen once said, 'So Fetch' and would even be approved by 'the plastics'. The event at lunchtime was something inspired by the movie 'mean girls' (as was the whole day) in which students did trust exercises such as trust falls and building a human chair. This event was not much of a hit, the students embodied Regina George a little too much that day, so they were too cool to partake. A little disappointing but alas, still in the spirit of 'mean girls.
Thursday was festival inspired, which basically gives an excuse to wear sunglasses and heinously lairy shirts into college and get away with it. And the students did not disappoint! The headliner of lunchtime was a game of musical chairs, which had quite a crowd. Though many students didn't partake in the battle for a chair, they were entertained by those who did. As the chairs started to dwindle, the heat grew more intense for who would be crowned the winner of musical chairs. As the music stopped and the winner claimed his chair those spectating cheered and applauded.