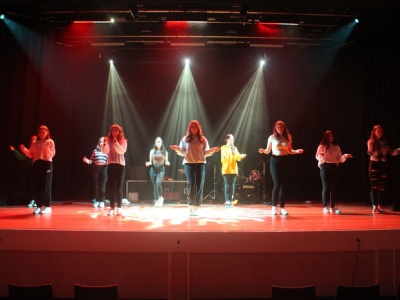 Collingwood Sixth Form Revue 2021
SIXTH FORM REVUE -THE SHOW MUST GO ON!
After a long wait, Collingwood College officially held its first event in the recently refurbished Kingston Theatre. The annual Sixth Form Revue came back with a bang as students performed, sang and danced their way through the night.
Students performed for two nights on Wednesday 20 October and Thursday 21 October, however, weeks of preparation had taken place to ensure both nights were a huge success. Thank you to all the staff, students, friends and family of Collingwood who came to see the Revue and support our Sixth Form.
Well done to all the cast and crew involved in the show, especially Izzy Cox who directed the cast. Special thanks to Rhys Barratt who came every day in his half term from Brit school as our sound technician and as always, thank you to Dan Wright who blew us all away again with his wonderful lighting.
The second night, when faced with a technical issue, Mrs Sarah Evangelista saved the show by organising delivery of a digital audio mixer. Thank you so much to you and the team at Showstate for your compassion and generosity.
Be sure to check out our Collingwood social media pages and @collingwoodperformingarts on Instagram for highlights all next week.
Mrs Valu - Head of Performing Arts and Drama Department