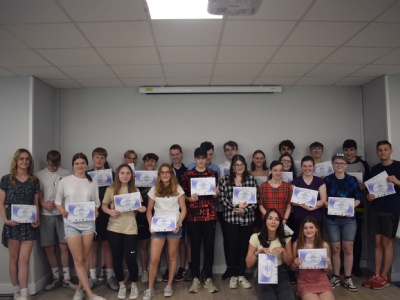 To mark the end of the academic year, Year 12 students were invited to their final Y12 Achievement Award Seminar, where we celebrated academic success, effort and progress throughout the year.
Congratulations to Harry Rundle who completed the 'hat trick' and collected awards for all 3 of his A level subjects!
Tej Pama and Lauren Sawyer were the winner of the 100% Attendance Award and were presented with Amazon vouchers - outstanding commitment!!
| | | |
| --- | --- | --- |
| Lauren | Bennett | Hard work and progress in English Literature |
| Bailey | Black | Good progression throughout the year & always being inquisitive in Film Studies |
| Evie | Boswell | Consistent hard work in A Level Business |
| Martina | Buocikova | Striving to achieve excellence in Biology |
| Megan | Coote | An excellent attitude & fantastic progress in Media Studies |
| Thomas | Findley | Consistent effort in History |
| Ellie | Hawes | Excellent performance in Law |
| Ellie | Hawes | Excellent attitude & consistent performance in Psychology |
| Rachel | Hearn | For being a conscientious student who has progressed well throughout the year in Film Studies. |
| Jack | Hopperton | Steady improvement & being the silent assassin of Year 12 Economics |
| Jacob | Lau-Kee | Excellent attitude in Computer Science |
| Jacob | Lau-Kee | Always asking questions and continued improvement in Further Maths |
| Henry | Li | For excellent work on the NEA in Product Design |
| Ethan | Long | Persistence hard work in Applied IT |
| Charlotte | Morris | Striving to achieve excellence in Biology |
| Charlotte | Morris | Being an exceptionally conscientious & hard working student in PE |
| Dan | O'Regan | For excellent effort & commitment in BTEC Business. |
| Theo | Palmer Marshall-say | Always going above & beyond in every task set in BTEC Media |
| Tej | Pama | Consistent hard work & participation in Chemistry |
| Tej | Pama | Consistently going above & beyond with independent study in Maths |
| Erin | Patman | For excellent progress throughout the year in English Combined |
| Lara | Pearson | Excellent attainment & demonstrating great motivation in Physics |
| Oliver | Pile | For excellent work on the NEA in Product Design |
| Oliver | Pile | A resilient & mature approach to work in Applied Science |
| Alex | Preston-Jefferys | For hard work & dediaction in BTEC Business |
| Alex | Preston-Jefferys | Consistent hard work & effort in Photography. |
| Sophie | Richmond | Consistent hard work in BTEC Travel & Tourism |
| Harry | Rundle | Incredible hard work & achievement in Art |
| Harry | Rundle | For consistent hard work and excellent ideas/writing throughout the year in English Combined |
| Harry | Rundle | Outstanding progress & academic achievement in Geography |
| Max | Stainforth | Excellent character and performance work in Drama |
| Nicola | Turner | Excellent attitude & consistent performance in Sociology |
| Aimee | Webb | Consistently producing the highest quality work, excellent contribution & being a role model to her peers in BTEC Sport |
| Aimee | Webb | A fantastic effort & excellent coursework in BTEC Health & Social Care |
| Ryen | Wright | For consistant effort in BTEC Business |
| Julia | Zebrowska | Outstanding & consistent effort in Maths |