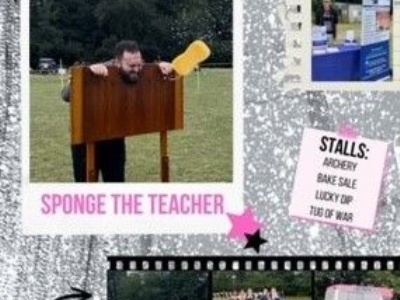 Collingwood Fun Day returns with great success
At the end of last year on Tuesday 11th July 2023, the Sixth Form Senior Prefect Team was delighted to bring back Collingwood's annual Fun Day event, after it had not gone ahead in over 4 years due to the Covid pandemic.
Fun Day is entirely student-organised and run, with each form running its own activity stall; we saw some amazing and creative stalls across all year groups, from Archery to Chilli eating competitions, and of course the ever-popular 'sponge the teacher' (a special thank you to all the staff who bravely volunteered for that!). Congratulations to the following forms who raised the most money in their year group:
Year 7: 7J

Year 8: 8H

Year 9: 9F, 9H, 9I

Year 10: 10H
Along with over 40 stalls, students also enjoyed cakes and drinks donated by our College catering company Innovate, and ice-cream vans from Sir Whippy, who generously donated some of their profits from the day, which was clearly very popular as the queues didn't stop even when we had a rain shower!
Most importantly, we were honoured to be joined by The Hope Hub Surrey, who were our chosen charity for the event. They engaged with our students to help spread awareness about the important work that the charity does for the most vulnerable people in our community, and picked up the generous food bank donations that students provided so that they can be given to the people in most need. If you are interested, you can find out more about the charity and how you can support it here: https://thehopehub.org.uk/ .
The feedback we received from students was very positive, and it was great to see the College community together again. We are happy to announce that the grand total raised from the event was: £1687
A huge thank you to all of the students, staff, and parents who helped make this event a success and bring back Fun Day with a bang - we hope it continues in the upcoming years!
If you're interested to see what the team will be getting up to this year, you can follow us on Instagram: @collingwoodsixth . Our Tuck Shop will be continuing every Friday at the Barossa Bus Stop from 3:00-3:30, and we are beginning the rehearsal process for our annual Sixth Form Revue which will be performed in October.