9 December 2020
Year 8 to Return to College on Thursday 9 December; Year 10 to Continue with Remote Learning until their Return on Monday 14 December
For further details please refer to my letter to parents dated Tuesday 8 December.
Next Week
You will be aware from my previous correspondence that I have sent an email to Michael Gove, our local MP and member of the Government, outlining the situation at the College and requesting that the government consider a 'circuit-breaker' of switching to remote learning for the week immediately before and after the Christmas holidays. I have yet to receive a reply.
I know from your correspondence that many parents share my worries about the impact that schools and colleges remaining open until Thursday 17 December might have on the ability of students and staff to safely meet up with family and friends over Christmas.
Head Teachers and Teaching Unions have warned that there could be a "steep drop" in school attendance next week as parents prioritise the safety of their families ahead of Christmas. Head Teacher representatives have said that the "obvious and straightforward solution" to the problem would be giving schools the ability to switch to remote learning for the last few days of term, calling on the Government to announce a plan to avoid a "chaotic and disruptive" end of term in the next 24 hours.
The response from the Government this morning is that they are not allowing schools to finish early at Christmas, or to switch to remote learning or to change INSET days other than introducing one on Friday 18 December, which we have already done. Legal advice that we have received is that, in line with the Government's temporary powers under the Coronavirus Act (2020), schools would put themselves at risk of injunction if they were to attempt to close early for Christmas except if they feel they cannot maintain a safe environment.
Given this unambiguous statement from the Government I have no alternative but to confirm that the College will break up for the Christmas holidays, as planned, at 12.30pm (after Period 3) next Thursday 17 December.
Contact Tracing During the Christmas Break
The Government has set out the expectation that schools trace contacts of confirmed COVID cases for 6 days after the last day of teaching in College. College staff will therefore be on standby until Wednesday 23 December to carry out this process if required. To support us, we ask that all parents and carers:
Telephone the College immediately on 01276 457600 if your child tests positive for COVID-19. Staff will ask you for the following information:
- Information about your child's symptoms and when they started
- The date your child was tested
- Students they have been in close contact within College and the dates on which they were in close contact.
Contacts will be informed by text and email. Please check the Update Information page in Edulink to ensure the contact details we hold for you are correct and monitor texts and emails up to Wednesday 23 December for communications from the College.
If you are informed of a positive test result between Thursday 24 December and Sunday 3 January, please telephone the College on Monday 4 January.
Next Summer's Exams and Assessments
I thought it might be useful for parents for me to clarify the arrangements for next summer's exams.
Last week the Secretary of State for Education announced that students sitting exams and other assessments next year will benefit from a package of measures to make them as fair as possible and to manage the disruption caused by coronavirus. This package of measures includes:
More generous grading than usual, in line with national outcomes from 2020, so students this year are not disadvantaged
Three-week delay to exams to free up extra teaching time announced in October, the new measures
Students receiving advance notice of some topic areas covered in GCSE, AS and A levels to focus revision
Exam aids, for example formula sheets, provided in some exams giving students more confidence and reducing the amount of information they need to memorise
Additional exams to give students a second chance to sit a paper if the main exams or assessments are missed due to illness or self-isolation
A new expert group to look at differential learning and monitor the variation in the impact of the Coronavirus (COVID-19) outbreak on students across the country.
Revised College Day
Please find below the revised College Day structure reflecting the fact that Year 8 will have breaks/lunch between Periods 2 and 4 as from the start of next term as outlined in last week's newsletter.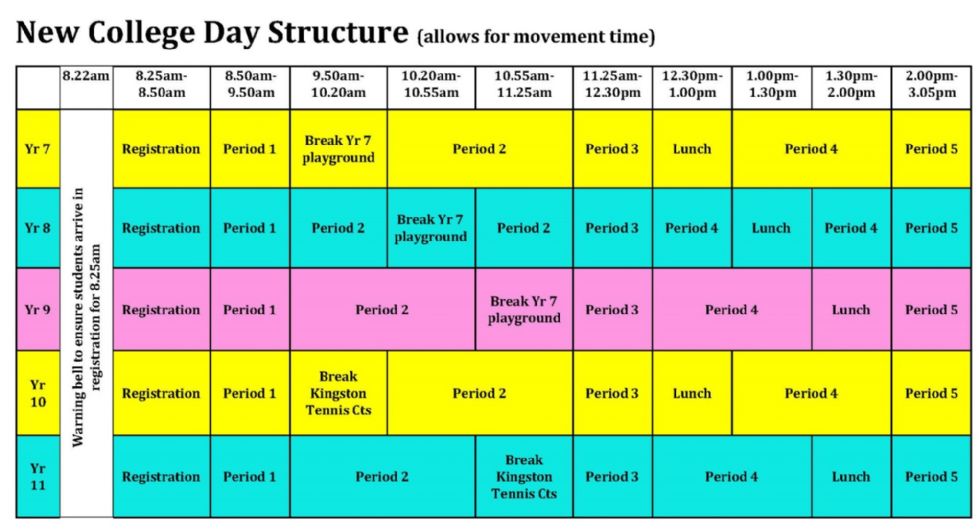 Mr Tanner - Principal