9 February 2022
COVID
I am aware that COVID numbers generally in Surrey Heath are still fairly high, and I am hearing that many schools in the Woking area are experiencing very high levels of staff and student COVID-related absences. However, currently we have relatively small numbers at Collingwood that are absent-related to COVID.
As you are aware, we have kept a number of procedures in place, such as no indoor assemblies or large indoor events/meetings, which we feel are helping to limit transmission, and we will continue with these measures for the first two weeks after the half-term break to see how the situation looks then. We are, of course, anxious for all activities to return to pre-pandemic arrangements, but we are still being cautious to protect our core business of daily face-to-face lessons for all students.
Year 7 Parents' Evening Attendance
I wanted to highlight the fantastic support from Year 7 parents last week as we had in excess of 90% attendance for this event, which not only is the highest engagement figure for the last few years for a Parents' Evening but also demonstrates how successful such virtual events can be.
Advance Information for GCSE, AS and A Level Exams Released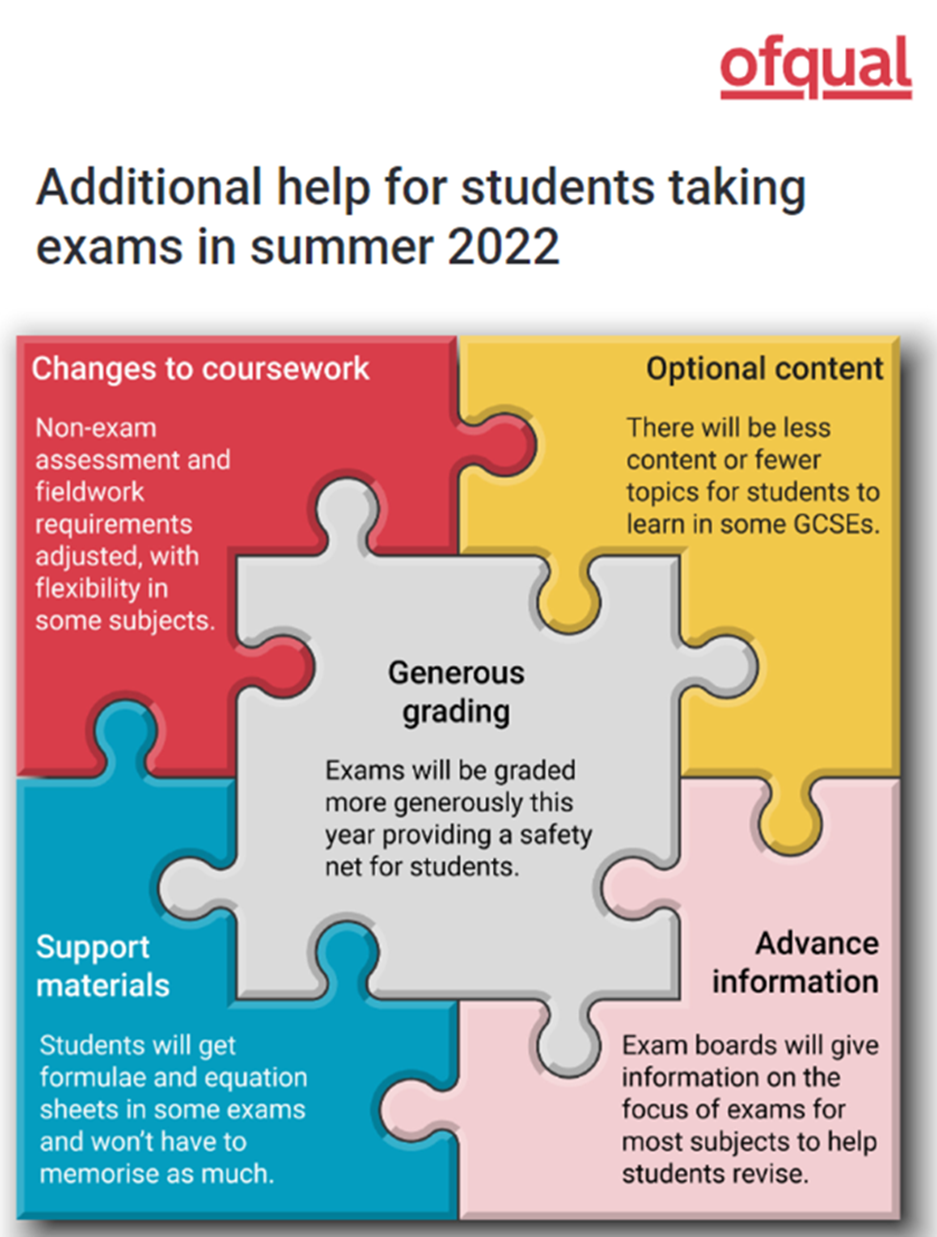 We are delighted to have received the advance information to support our preparation and planning with our examination classes and for students to focus their revision. However, I can again reassure you that we have our contingency plans in place which I referred to in a previous newsletter item should examinations be cancelled.
This week the exam boards have published advance information on the content of most GCSE, AS and A level exams in Summer 2022 on their public websites. This is part of an unprecedented package of support for students, including changes to non-exam assessment, providing formulae and equation sheets in some exams and more generous grading, to help make exams as fair as possible this year.
There is advance information for all GCSE, AS and A level subjects, with the exceptions of art and design (because they do not have written exams) and GCSEs in English Literature, History, Ancient History and Geography, which have some optional topics or content instead. I will also point out that due to the variety of specifications covered, the different conventions within subject areas, and how those are assessed, advance information will be different for each subject. The diagram on the right summarises the additional help for students taking exams in Summer 2022.
Ofqual have also issued a letter for students to reassure them. This letter has been placed on Edulink and emailed to students. I have reproduced this below which includes useful links to support revision.
Dear students

In my job as Chief Regulator of qualifications I get to meet many students, teachers and parents from different parts of the country. Speaking to students like you, who are getting ready for formal exams and assessments, it's clear to me that you want life to get back to normal and that you would like as much certainty about what is going to happen as possible.

For that reason, the exam boards have, this week, published for you 'advance information' on their websites. This is subject by subject, specification by specification, specific outlines of the focus of questions across many of your summer exams. We've added a tool on our website which shows you what is available for each subject.

These materials are just one of the ways we are working to make sure that, despite the disruption caused by the coronavirus (COVID-19) pandemic, your exams and formal assessments are less daunting.

You will also get formulae sheets for GCSE maths exams and updated equation sheets for GCSE physics and combined science exams, so you won't have to memorise as much.

As well as advance information and formulae sheets, you will be supported by generous grading, which will provide you with a safety-net to protect you from just missing out on a grade. We will also publish videos, infographics and other materials to help those of you who have been prevented from ever sitting a formal exam, to know what that feels like. You can find more information at the following official sources:

Rolling update
Ofqual Instagram
Ofqual blog

Best wishes
Dr Jo Saxton
Chief Regulator
Mr Tanner - Principal