7 September 2022
I do hope you had a good summer. It has been an absolute pleasure to welcome all our students back to College. I would like to extend a special welcome to our new Year 7 students who have settled into the College very quickly and made a very positive start. I am also very pleased that attendance has been very high in all Year Groups with the vast majority of students attending College.
Examination Success
For those who have not read the local press or the College website, I can confirm that our exam results in the Sixth Form and at GCSE were, once again, very positive!
At A level 60% students achieved A*-B, 60% BTEC Distinction* to Distinction and overall, 60% of Year 13 students achieved the top grades. In terms of progress, the College achieved an ALPS 3 ('Excellent, top 25% nationally') at A level and ALPS 4 ('Very Good, top 40% nationally') at BTEC.
At GCSE, almost 80% of our students gained 5+ GCSEs graded 9-4. Our ALPS progress measure was 3 (Excellent, top 25% nationally).
Of course, the most important outcome is that nearly all our students in Year 13 and Year 11, gained the necessary grades to progress on to the next stage of their career or education.
These results reflect the hard work and commitment of students, staff and, of course, parents. I am very grateful to our outstanding classroom teachers, pastoral and support staff and I know from your many emails and letters, that you too appreciate their hard work and commitment.
Student Numbers
I am pleased to inform you that the College is full in Years 7, 8 and Year 9 (with waiting lists). We have approximately 180 students in our Sixth Form.
Uniform
I am very pleased to see very high standards of uniform and am very grateful to parents for supporting the uniform policy. Please could you remind your child that no wires or headphones are allowed to be visible on site. Any visible wires or headphones will be confiscated unless they are using them as directed by staff to aid their learning. The College is very aware of the current challenging financial situation for all families - please contact your child's Year Manager to discuss any particular concerns regarding uniform.
Please help us to ensure that these high standards are maintained throughout the year.
Site Improvements
Once again, the summer holiday has provided an opportunity for some exciting developments across the site which continue our programme of investing in and upgrading facilities for students throughout the College. Notable improvements, in addition to the usual schedule of maintenance and redecoration, include:
Continuation of fire safety upgrades and interior refurbishment in Kingston building and the start of works on extensive electrical and fire alarm upgrades
Landscaping and creation of outdoor social space for the Sixth Form
Classroom furniture upgrades in 14 Barossa classrooms
Flooring replacement throughout Q Block and R Block (Kingston)
New recreational playground equipment
Upgrade of heating/boiler plant controls in Kingston building.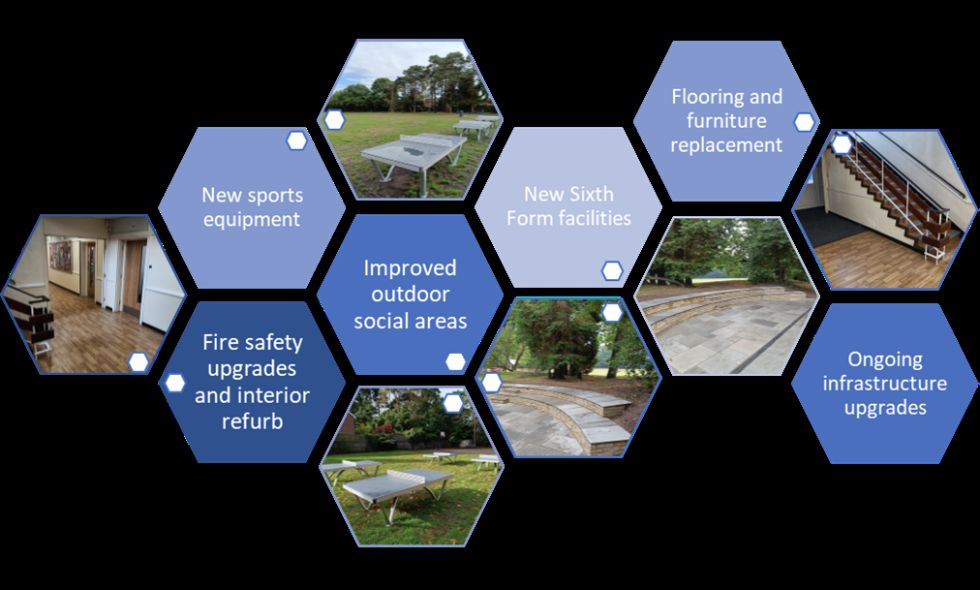 College Fund Donation
I will shortly be sending a request for donations to the College Fund for those parents who have not already set up a standing order or regular payment through ParentPay. The generosity of parents in previous years has enabled the College to complete a number of improvements which would not have been possible without your support.
Staffing
I would like to welcome a number of new colleagues to our team and am pleased to report that we are fully staffed.

Staff Roles
Below is a list of the Senior Leadership Team: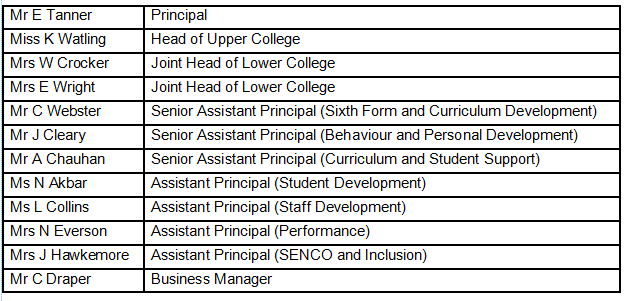 Detailed below are the Year Manager and Pastoral Support Assistant arrangements for the current academic year:

Communicating with the College
Please remember to contact staff at the College via our Parent Communication System which is accessible via Edulink One. The online system will ensure that your communication receives an acknowledgement and a prompt response. If you have not already received your log in details for Edulink One, please contact the College.
College and Sixth Form Open Evenings
Thursday 6 October 2022 - Main Open Evening – Early Closure, finishing at 12.30pm. Open Evening from 5.00pm until 8.00pm.
Thursday 13 October 2022 – 6th Form Open Evening – Early Closure, finishing at 2.00pm. Sixth Form Open Evening from 5.30pm until 8.00pm.
Academic Review Half Day
Wednesday 28 September will be an early closure, finishing at 2.00pm. A letter providing details of our Academic Review Half Day will be sent nearer the time.
I look forward to a very successful academic year!
Mr Tanner - Principal