Year 9 Football Team into Last 8 in the Country!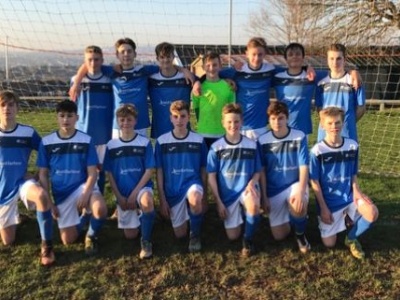 Year 9 boys beat St Peter's School, Exeter 4-1 to go into National Quarter Finals.
On Monday 23 January the Year 9 footballers travelled to Exeter to play their last 16 round of the English Schools National Cup. After a very long journey down we finally arrived at St Peter's School with plenty of time before kick-off.
Once changed the boys headed out for a good warm up and by 2.00pm were ready and raring to go. Despite the good journey and warm up the boys started the match very slowly and St Peter's were taking control of the game. The pitch was very boggy in parts which made it difficult for the boys to play their natural passing game. Jacob Cowler in goal was having a commanding first half and twice was incredibly brave to deny goal scoring opportunities for St Peter's. The first half was going by without any real chances but just before half time Josh Ford put in a delightful cross which Oli Ewing got on the end of putting us 1-0 up at half time.
The second half started much the same as the first with the game going end to end with no real chances. Ten minutes in, St Peter's created a chance and they duly took it with a good finish beyond Jacob in goal. Ironically this seemed to wake the boys up and we managed to step up a few gears and were soon pressing a lot higher up the pitch and creating more clear cut chances. Five minutes later Jakob Carl picked up the ball on the half way line and left the defenders for dead with his pace, before crossing to a waiting Kyle Odendaal to score putting us 2-1 up. From this point onwards we controlled the game well. Soon after we were 3-1 up with a slick passing move which resulted in Stanley Grosch scoring to make it 3-1. The last goal of the game and by far the best came just before the end with a good cross from Stanley which allowed Jonathan Marsh to turn and finish on the half volley.
The boy's achievements just keep getting better and better and to now be in to the last 8 of the English Schools Competition where over 653 teams entered at the start is an outstanding achievement. We eagerly await our next opponents and look forward to trying our upmost to make the semi-final stage!
Team: Jacob Cowler, Cameron San Emeterio, Joe Terry, Callum Gunn, Alex Emery, Stanley Grosch, Oli Ewing (C), Josh Ford, Charlie Hawes, Jakob Carl, Kyle Odendaal, Matthew Barnett, Lewis Collin and Jonathan Marsh
Man of the Match: Jacob Cowler, a fine all round performance.
Mr Andrews – PE Department