Year 8 Student Wins Gold and Silver in National Athletics Competition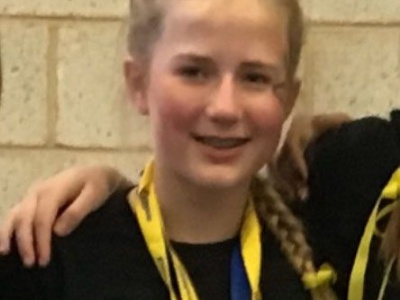 Maya James (8G) wins Gold and Silver in Relay and Paarlauf at National Sports Hall Finals.
Maya has been a member of the Camberley and District Athletics Club since 2013.
This year she was selected to represent Surrey at the National Indoor Sports Hall Finals, where the best 11 county teams from England, Wales and Northern Ireland competed.
Not only did Maya win a Gold and Silver medal from the two events she competed in (4 x 1 lap relay (Gold) and 8 lap Paarlauf* (Silver)), but she also collected a team Gold medal when the Surrey team won the overall competition and became National U13 girls Champions 2017.
*Paarlauf is a race where you have two runners and you have to complete a total of 8 laps. It is up to the team to decide how they share the 8 laps and when to change - everyone did 2+2+2+2.
Many congratulations to Maya and her team - great achievement!