Collingwood Students Present the British Children's Charter at No. 10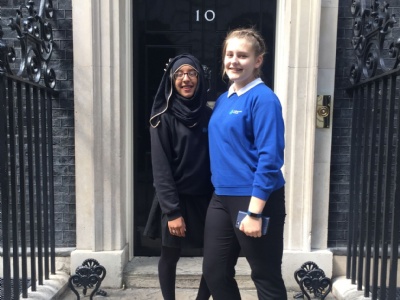 Alexandra (9F) and Khadeejah (11D) present the Children's Charter to Gavin Barwell, Chief of Staff for Downing Street.
The day after school finished for the Summer holidays (Friday 21 July) – Alexandra (9F) and I found ourselves back in school uniform! First News, the children's news company, had invited us to go to Downing Street and hand over the British Children's Charter to the Chief of Staff for Downing Street – Gavin Barwell.
The British Children's Charter was effectively a list, in order, of issues children around the UK felt they were more worried about in the lead up to Brexit negotiations.
This was such an incredible opportunity. We met two other young people at the Royal Horseguards Hotel, then travelled to Downing Street with Nicky Cox MBE. Having posed for lots of photos, we had the opportunity to talk to Mr Barwell, talking about Collingwood College, our debating society and other things we were taking part in after school.
He seemed so impressed, and after we officially handed the charter over (with lots of photos, obviously), he offered to give us a personal tour around the building! This was, without a doubt, one of the best moments of our lives, being escorted around the building, into many meeting rooms that are closed off and looking inside the building, seeing the amazing architecture.
We had the opportunity to go into the cabinet room, Winston Churchill's old bedroom and saw the incredible 'Downing Street Staircase' exhibiting portraits of every single British Prime Minister, in order.
Every single part of this day was incredible – and I personally received Gavin Barwell's parliamentary business card! We are so thankful to First News, but also to Collingwood College for this once-in-a-lifetime chance!
Khadeejah - 11D