Collingwood Success at Model United Nations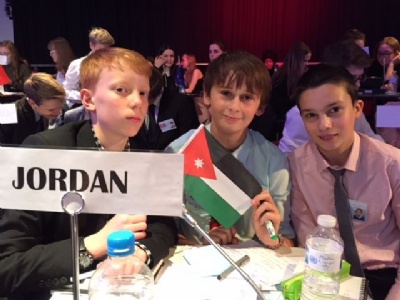 Collingwood's 'Jordan' team (Dylan, Magnus and Pelham) awarded "second best team" of all the 64 countries for their performance – fantastic result!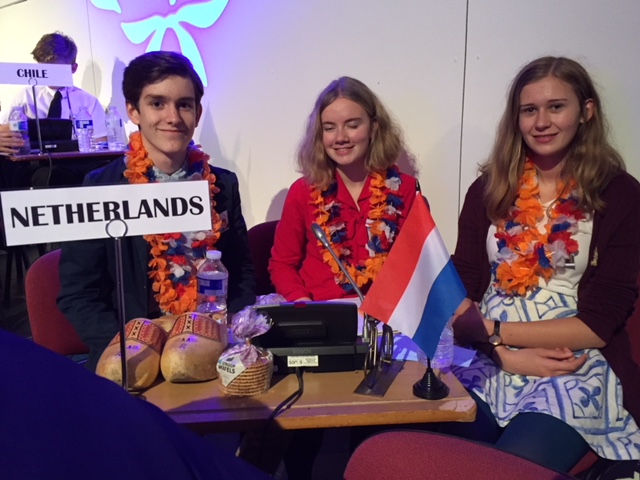 The Model United Nations (MUN) is an extremely well-organised event at Calthorpe Park School, Fleet, where local schools are invited to send teams representing countries, and after a lot of intense research and preparation, students discuss and debate the issues affecting the world of today.
The time involved was equally challenging: three and a half hours "working the committee room" on the Wednesday evening, followed by 6 hours debating in the Assembly. There was scrutiny from the judges from sponsors, the Rotary Club, and good control from an excellent student General Secretary team. But equally the students enjoyed excellent catering arrangements, including lunch from a local Indian restaurant, and there was the bonus of an address from the MP for North East Hants, Ranil Jayawardena.
C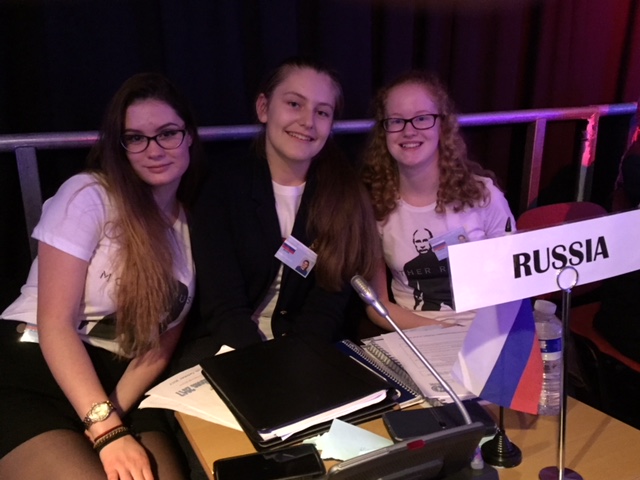 ollingwood sent three teams this year, Jordan, Russia and The Netherlands. There were an amazing 61 other countries packed into the General Assembly. Such was the calibre of our teams that of 10 motions debated in the day, Russia (Ivana, Alexandra and Emily – on Equitable Trade and Development – motion passed), and The Netherlands (Harry, Madelief and Millicent – on introducing a worldwide bicycle culture(!) – motion passed) actually introduced 2 of the motions to the assembly. This is public speaking to almost 200 in the Assembly and spectators.
Our own 9 students were extremely impressed, and clearly gained a lot from this experience. They mentioned the great atmosphere, how the experience represented a realistic view of world politics, and how they were forced to look at other countries' viewpoints – and the various alliances and relationships between them. They found it fascinating to do all their research and then having to "play the role". Furthermore it improved their speaking skills: they enjoyed meeting so many other students from other schools… and the food was great!
Our accompanying staff, Mr Magness and Mr Bunter, were extremely impressed by all our students' contributions, and perhaps it was not a surprise that Jordan (Dylan, Magnus and Pelham) were awarded "second best team" of all the 64 countries for their performance – fantastic result!
In Dylan's words…
"MUN was an amazing experience , there was a true sense of authenticity in the model UN.
What I believe was most valuable was the broad range of views that you get to learn about and roles to fulfil. It also educates you on the political process of the UN and foreign affairs."
Many thanks to all concerned. Perhaps next year we could send even more teams…
Mr Bunter