Hoops, They Did it Again!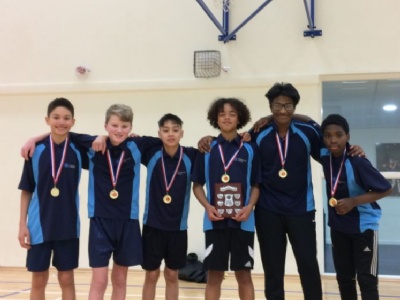 The Year 8 Boys' Basketball Team have won the North West Surrey School Sport Partnership Basketball competition with three successive tournament wins across the hosting Woking Schools.
PE Teachers from all the other Woking schools have been in awe of the sheer class of Denver Mathew, Tieni Adeniran, Sammy Street, Kiran Coomasaru, Luke Hannaford and Noah Ayivi-Knott with one very successful basketball teacher commenting, 'these are the sorts of boys that are successful in National competitions'.
The average score of a game with these boys ranged from 12:0 to 22:0. Very accomplished young boys who have impressed the PE Department with their calm and quiet confidence both on and off the court. Choosing to wear their PE kit over any basketball strips we as a department have, they have done themselves and the College proud. Approaching members of the PE Department during break times and thanking them for giving their time up, these boys have been a pleasure to work with for many of us in the PE Department.
National competition entry beckons for next season. Well done boys!
Mr Beer - Head of PE Department