Firewalking to Success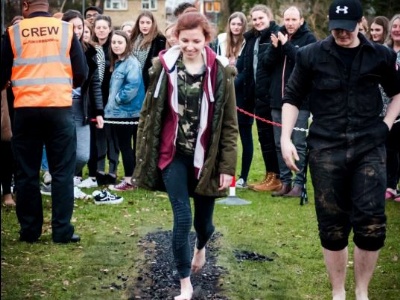 Over 70 Collingwood Sixth Form students and staff put their motivation and self-belief to the test in a firewalking challenge held on Tuesday 6 February.
Event organiser Mr Woods (Key Stage 5 Curriculum Leader) said that firewalking was a part of an approach to success that encouraged students to believe there were no limits to their aspirations and they could overcome their fears to reach their goals.
One of the reasons our Sixth Form students do so well is that they believe in themselves. This was about showing you can do anything with the right mindset."
Prior to walking barefoot over 1200 degree coals, students and staff participated in a motivational session led by Errol Gordon from PlanIt Firewalking.
There were lots of nerves and excitement in a room full of teenagers but when the time came to walk, two Year 12 girls rushed to the front of the queue as they were so keen to complete the challenge.
Everyone was in high spirits, celebrating and cheering on others.
Year 13 student, Charlotte To said "the buzz and the atmosphere afterwards was a testament to the challenge we had all overcome."
Mr Woods - KS5 Curriculum Leader