Year 7 Girls Become District Basketball Champions!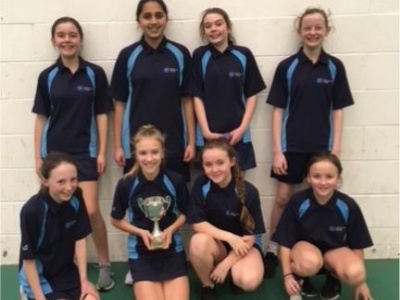 Girls victorious in third and final district basketball tournament.
On Wednesday 7 February the Year 7 girls' basketball team set off to George Abbot School for the third and final District Basketball tournament. After winning the first tournament and finishing 2nd in the second tournament the girls were confident of becoming overall champions.
The girls started the tournament very brightly and won the first game very comfortably against SJB. Throughout the tournament the girls showed their class and other teachers were very complimentary about their Basketball ability. After winning all their games it came down to playing Woking High to decide the overall title and the girls once again put in a superb performance to become overall District Champions for Year 7.
Team: Sophie Moore, Lyv Stevenson, Connie Goodchild, Keira Lourdes, Ellie Ford-Bolding, Amy Woolley, Emma Ludlow and Emily Knight.
Mr Andrews – Year Manager - Year 7 / PE Department