Year 10 Football Team March onto Aldershot Town Cup Final Date!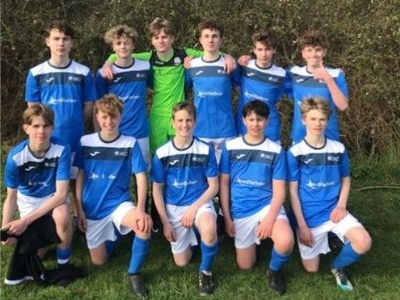 Year 10 Boys beat All Hallows 2-1 to reach District final.
On Monday 16 April the Year 10 football team went to All Hallows to play in the District Cup semi-final. The winners of the game would have the honour of playing the final at Aldershot Town so both teams were up for it.
The pitch made for a very interesting game as the grass had been left very long but we soon settled down and started to move the ball well. The game was very even with both schools having chances but a mistake by us from a corner allowed All Hallows to take a 1-0 lead which they held on to until half time. The second half started and the boys really moved up the gears and started to show why they are the best team in the district.
We soon equalised with a well-taken finish from Jonathan Marsh. As the game entered the last 10 minutes we really started to put the pressure on and a neat interchange of passing lead to Jakob Carl being put through only to be taken down and a penalty rightly awarded. Jakob stepped up and despatched the penalty very well to put us 2-1 up with 5 minutes to play. The boys managed to see out the last 5 minutes and once again now move on to play their third final in 4 years which is a remarkable achievement.
The boys have also retained the District Premier League title for a fourth consecutive season winning 4 out of their 5 games scoring 20 goals in the process.
The boys now march on to the final at the EBB stadium (end of May) to face the Robert Mays School. Please come out and support the boys on this momentous occasion for them all.
Team: Joe Fitzjohn, Cameron San Emeterio, Joe Terry, Matthew Barnett, Dan Simmonds, Josh Ford, Ben Glassar, Alex Emery, Stanley Grosch, Jonathan Marsh and Jakob Carl.
Man of the Match – Joe Terry
Mr Andrews – Year Manager - Year 7/PE Department