China, The Trip of a Lifetime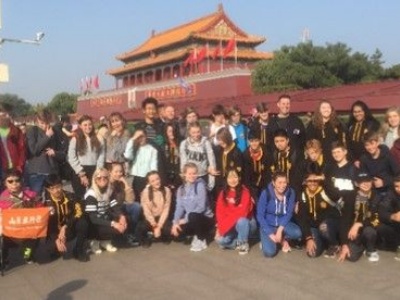 "The best week of my life" and "an unforgettable experience" are just two among many extremely positive comments from students who spent the October half term holiday visiting China. What made the visit so exceptional?
On our arrival we were briskly peddled by rickshaws around Beijing to the Hutongs. Here we saw some of the oldest residences in the city and had lunch in the home of a local family. In the afternoon we had a relaxing walk and boat ride at the Summer Palace. In the evening we were treated to a Chinese acrobat show, including six motorbikes whizzing around a small globe! After being awake for so many hours it felt quite unreal!
The next day we were amazed by the massive size and sense of history in Tiananmen Square, where Chairman Mao proclaimed the establishment of the People's Republic of China in 1949 and the tanks rolled in to disperse the crowds who were protesting in 1989. We not only had chance to see where this took place, but were able to walk through the Forbidden City and Temple of Heaven to take in some of China's ancient history. It was easy to imagine the opulent life of the Emperors who lived here. To top this off we took part in a tea drinking ceremony.
Have you ever eaten scorpion, spider or snake? Many of the group now have, as these were among the exotic delicacies on sale in the night market we visited one evening before leaving Beijing!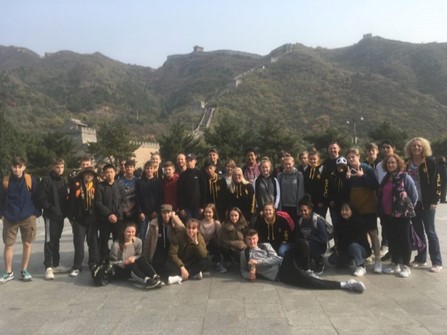 Our final day in Beijing nearly all the group, including the teachers, managed to climb to the top of the Great Wall and were enthralled by the spectacular views across the countryside which awaited them and made the arduous climb worthwhile as well as a medal! In China there is a saying that you become a hero when you climb to the top of the Great Wall. I can confirm that our group arrived as students and teachers and left as heroes!
We managed to fit in a quick bit of shopping in the Peal Market before boarding our overnight train to Xian. The market provided a great opportunity for students to practice their bartering skills!
The overnight train to Xian was memorable for the small compartments into which we crowded for the 12-hour journey. Even more memorable was the sight of the terracotta warriors which were made according to the instructions of an Emperor more than 2000 years ago and only recently discovered by accident in 1974. The warriors and their horses are life-size and no two are identical. They occupy a field larger than a football field and there are still thousands more underground waiting to be excavated!
Before leaving for Shanghai we were able to fit in a visit to the world famous (and very busy) Muslim market and the more peaceful Wild Goose Pagoda.
We then flew to Shanghai, the most modern of China's cities, with skyscrapers more than 100 stories high. We took an elevator to the top of the Pearl Oriental TV tower and gazed down through a glass platform at the river, ships and smaller skyscrapers far below us. This was not for the faint hearted and many of us battled our fear of heights!
A highlight of the visit for many people was the visit to Jiangning School, our link school in the Putuo district of Shanghai. We were warmly welcomed by Principal Wu and treated to some delightful performances of traditional Chinese music. Our students also provided a demonstration of modern dancing and the Chinese students loved joining in.
Most of the group went with students from the school to their homes for one night. Everyone had a different experience of life in a Chinese home and talked excitedly about what had happened for most of the following day. For many this was the best night of the visit.
Our final day and final city was Suzhou which is about 2 hours' drive from Shanghai. Suzhou is known as 'the Venice of China' and we were treated to a boat-ride along it's ancient canals. The city is also China's silk capital and we visited a factory to see how silk clothes are made. This of course provided a great opportunity for further shopping both in the factory and in the market outside.
This was our 5th trip to China and we have taken over 100 students since 2010. China is an assault on the senses, it leaves an indelible mark of happy memories, for many this is life changing. It is no wonder that many students return saying it was the best week of their lives. It is an honour to lead this trip and I am grateful to the staff, students and parents who continue to work so closely and supportively with us to ensure our link with Jiangning School and this amazing adventure of a lifetime continues.
Our next China visit will be in October 2020 and students currently in Years 9, 10 and 11 will be eligible to apply.
Watch this space for details .............
Mr McKay - China Trip Co-ordinator