WW1 Centenary Marked with Special Events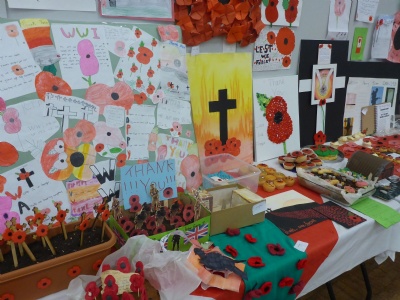 On Friday 9 November staff, students and members of the wider community took part in a very special day and evening service to commemorate the end of WW1.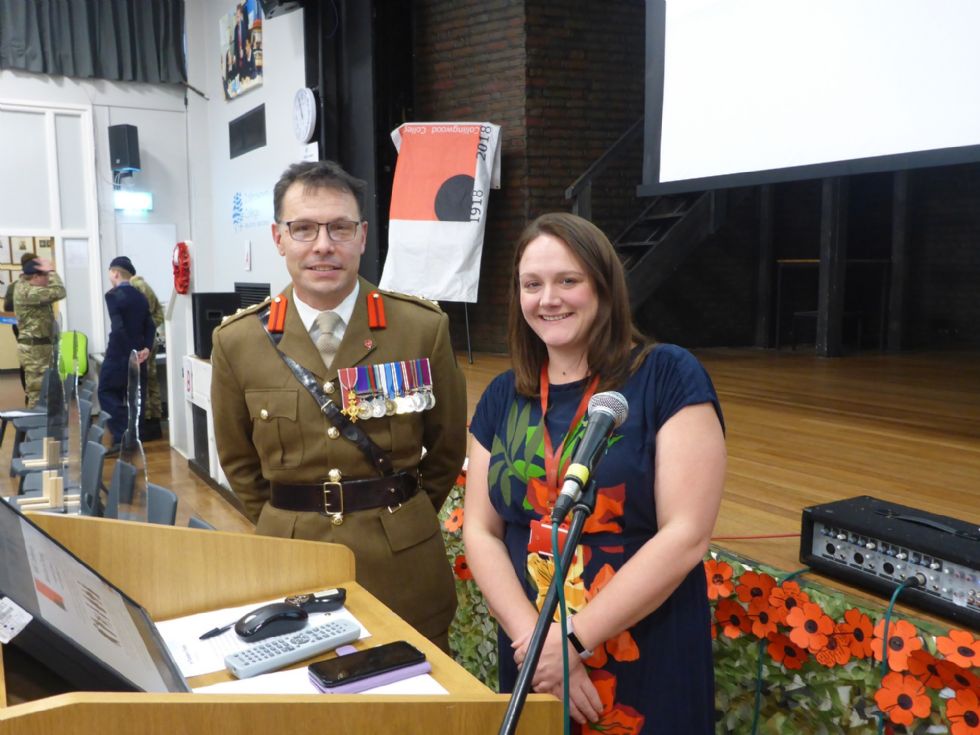 During the day all students took part in a special assembly led by students from different Cadet Groups and Colonel Walker. They were also treated to a performance from the Collingwood Drama group, of Archie Dobson's 'War'.
Throughout the assembly students were asked to reflect on the sacrifices that all those who lived during WW1 had made so that we could have our freedom. We heard about the dreadful losses of human life in the Battle of the Somme, the bravery and courage that all military personnel had throughout the war and we said Thank You for their human sacrifice.
Col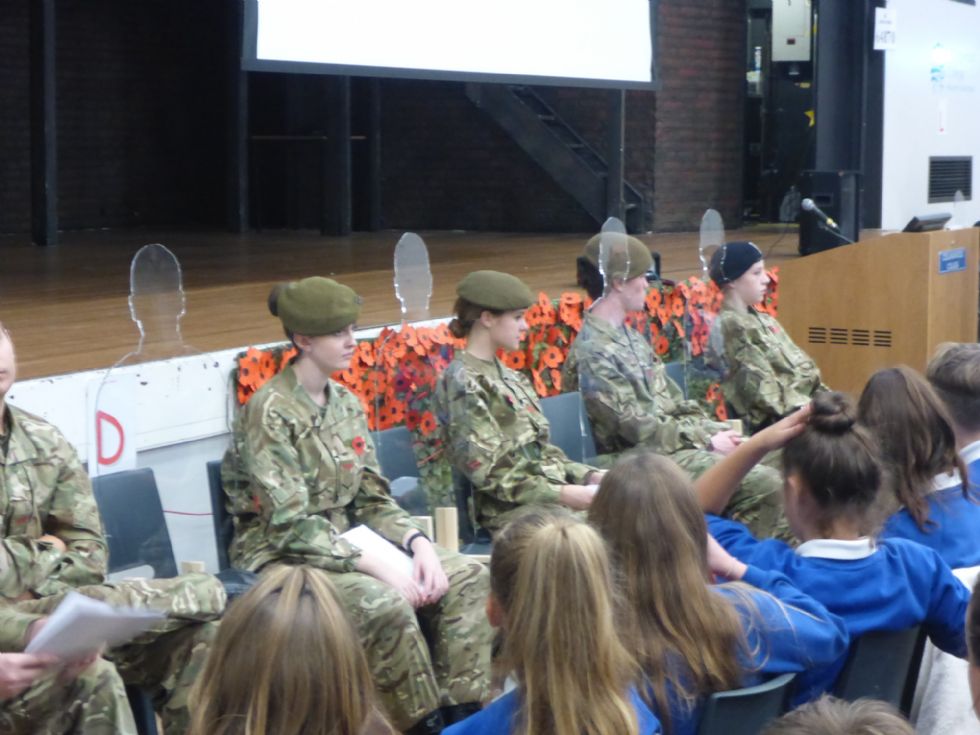 onel Walker offered an incredibly thought provoking, and at times, emotional perspective on life as a soldier now. Students were fascinated by his talk and learnt a lot about the realities of war and the impact that it has on the whole family and judging by their questions, they were inspired by him. The assembly ended with all students writing a message of thanks on a poppy which supported the British Legion's #Thankyou100 project.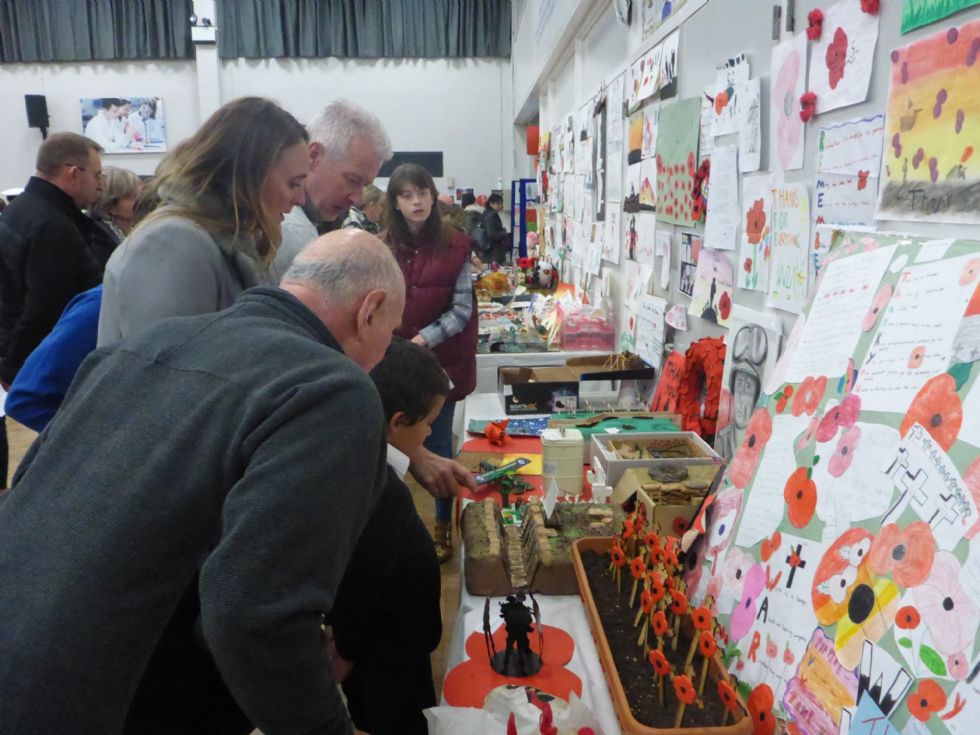 In the evening, we held an exhibition of students' work in Kingston Theatre and we were absolutely delighted with the hard work and dedication that our students put in to producing some incredibly thoughtful commemorative items. Despite the rain, over 200 people came out to view these incredible items and take part in our candle lit procession to the library where we heard a poignant rendition of the Last Post played by James Alcock. The procession was led by some of our students who belong to the Frimley and Camberley Cadet Corp of Drums and it created exactly the right kind of atmosphere for the event. Miss Eaton, a former teacher at Collingwood, returned to offer some reflections along with one of our Cadets Rachael Ruske, who wrote a touching speech which was simply lovely. We then raised our Centenary flag and held a minute's silence to remember all those that had fallen in WW1.
It was a fitting end to what has been a tremendous 4 year project at Collingwood College. Back in 2014 we had a special day off timetable where students got involved in digging trenches. We've also held a special candle-lit ceremony at 7am to mark the beginning of the Battle of the Somme and we planted crosses to remember those that lost their lives in the same battle. Not forgetting of course our sponsored walks, our Stockings for Heroes campaign and more recently our virtual walk around the colonies that supported Britain during WW1, all of which have raised a significant amount of money for a variety of different charities; we have all learnt a lot over the past four years. We have reflected and we have said thanks and above all else we have paid our respects to everyone who lost their life in this 'war to end all wars'.
"We were overwhelmed by the quality and variety of artefacts made by the students in response to the competition. Thank you to all students who participated and thank you to all parents who supported them!
The range of ideas was outstanding with many based on personal memories and mementos from family members. The way in which the students used their skills to make craft items, models, posters, poems, stories, flags, paintings, drawings, cakes and even some Lego models was inspiring.
It was impossible to pick winners but we are pleased that Miss Eaton, our ex-Senior Assistant Principal who launched the commemorative event in 2014, was able to come in and make those difficult decisions for us!
Every student who participated is to be congratulated! We hope that those of you who did not manage to see the display will have seen some of the amazing photographs taken on Friday.
We were delighted to see so many students, staff and parents attend the service which despite the rain was a lovely event. We are particularly grateful to Miss Eaton for starting our commemorative work and to Mrs Wright for bringing the four-year project to such a fabulous end."
Mrs Griffiths and Mr Tanner
Mrs Wright - Assistant Principal