Year 10 Students Win Inter-School Engineering Competition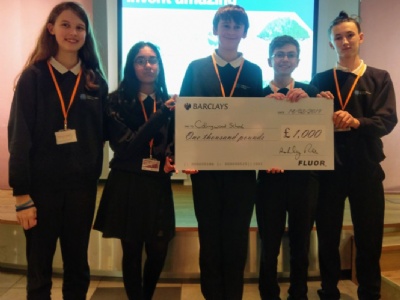 Congratulations to Alfie Alderton, Magnus Brodie Cooper, Callum Gilchrist, Saran Pama and Anna Welch, all in Year 10, who won the Fluor Inter-School Engineering Competition on Thursday 14 February at Fluor's HQ in Farnborough.
Fluor are a large multi-national Engineering firm that regularly support schools in the local area, and have also donated to STEM projects at Collingwood College in the past.
Currently they are one of the main sponsors for our 5th Generation Status Racing Car.
The challenge on the night was to build a contraption that could volley ping-pong balls back and forth across a table, with the winner being the team that achieved the highest number of volleys, using the least materials possible.
The contraption could only be built from plastic cups, pencils, paper, sellotape and ingenuity.
The team planned their design in an after school meeting the day before the event, and assembled it in record time on the night, finishing well ahead of other teams, giving plenty of time to practice their ping-pong strategy.
When the teams competed, the Collingwood team came first out of 7 schools, achieving 16 continuous volleys (9 being the next nearest) and winning £1000 for the Technology Department, beating a team made of 6th Form students and a team that had one of their teachers helping with the build!
Meanwhile, having full confidence in my team, I was able to catch up with marking and have a cup of tea.
The £1000 will be well spent on purchasing new tools and equipment for the department.
Mr Winter - Head of Design and Technology Department