Students Compete in the UKMT Junior Maths Challenge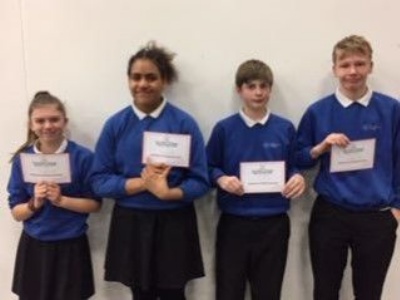 Year 8 and 9 students competed against 30 other teams in the Junior UKMT Maths Challenge.
On Friday 8 March a team of Year 8 and 9 students (Ella 8C, Grace 8C, Oliver 9B, Sean 9H) set off to Highdown School in Reading to compete against 30 other teams in the Junior UKMT Maths Challenge.
Arriving early, they put their minds together to solve the warm-up questions whilst eating the delicious cookies on offer. Then the competition began. It consisted of four rounds:
Round 1 - the whole team challenge – 12 problem solving questions requiring all their knowledge to complete
Round 2 – the crossword. The team split in two and one pair had the across clues and the other the down clues. Simple you may say, but some clues couldn't be answered by the across team until some of the down questions had been done and vice versa so good team work was imperative.
Round 3 – the shuttle. Still in pairs, one team was given question 1 and the answer to that question was used in the second pair's question.
Round 4 – the relay. Students answered questions as quickly as possible and walked quickly to their teacher to get it marked and then took the next question back to their team mates who had been moved to a different area of the room. This was the students' favourite round.
A jam-packed day of fun-filled maths. Congratulations to the students who represented Collingwood and did a fantastic job.
Mrs Walker - Head of Maths Department