We Will Rock You is a Huge Success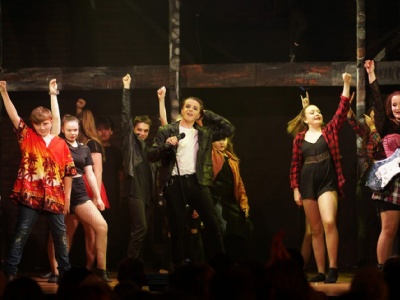 From Wednesday 27 until Saturday 30 March 2019, a cast of almost 50 students performed in Collingwood College's school production of We Will Rock You.
The students had been rehearsing tirelessly for four months and put on a phenomenal show. I couldn't have asked for a better cast for my first school production at Collingwood and I'm so proud of every single one of them. Thank you to our fantastic audiences and their participation in our show. The highlight of every night was the audiences' arms waving during We Are the Champions!
I also couldn't have asked for better colleagues. So many staff offered their support since this project began even when I had only just walked through the door. Thank you to all the staff who helped in this production, whether it was stage managing (Charlotte Jenner), designing the stage, screwing wheels onto bits of set, organising the seating plan or manning the car parks and front of house during show nights. I never dreamt that I would be accepted into the College so quickly and the time given to this production is a testimony of how hard working, caring and dedicated we are as a community.
Gazzer's band worked exceptionally hard under the musical direction of James Keymer (Head Boy). They rehearsed once a week and even turned H32 into a temporary music studio during half term! The show would not have been as spectacular without their talents, thank you James, John, Sam and Jake.
We were lucky enough to have the expertise of my past student from a school in London, Sam Blackmore, who agreed to be the lighting designer for our production. Sam wowed the audience each night with the movers and light strips which were truly magical.
There was a lot of excitement the weekend before the show and any problem was solved by our amazing staff, cast and crew. There are too many staff and students to name who helped during the get in, from finalising the set, painting glow in the dark dingbats, printing logos and ironing emblems on t-shirts. You know who you are, thank you!
Although I've only worked at Collingwood since September, one thing is for sure, our students are the most dedicated, committed and hard working I've ever had the pleasure of teaching. The following students not only helped during the get in, the plotting of the lights, but even during the get out on the Sunday, which just happened to be Mothers Day! So a big thanks to all the mums that allowed their students to help us clear up Kingston Theatre and put everything in its rightful place. Thank you: James Keymer, Shaun Vesey, Alex Foreman, James Little, Dan Wright, Rhys Barratt, Carys Burrows, Izzy Burrows, Emily Bass, Emily Clelland and Tia Whitehouse. Special thanks to the alumni of Collingwood College: Joe Monk, Scott Burrows and John Costa. Also, our newest member of the family, Sam Blackmore.
Finally, to my amazing co-producers, Miss Angell and Mrs Marden. Thank you for going on this journey with me. I couldn't have asked for two better people to have been by my side throughout this amazing experience. Please view a selection of photographs from We Will Rock You in this week's newsletter.
So, until next year!
Mrs Valu - Head of Drama Department