Years 7-10 Students Visited by Renowned Author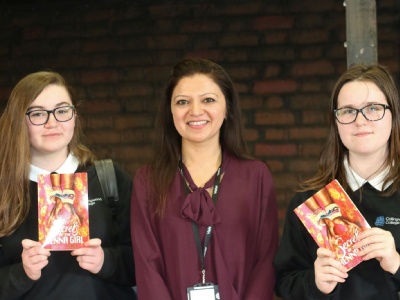 On Friday 26 April Collingwood welcomed author and former researcher in the Houses of Parliament, Sufiya Ahmed
Sufiya presented to four groups of students from Years 7 to 10. She opened her presentation with a glimpse into her life as an author and the struggles she faced as a feminist, in both her Muslim community as well as the wider British society. She offered the students an overview of the topic of her book – 'Secrets of the Henna Girl', a tale for teens; introducing them to the protagonist, Zeba, a 16 year old girl awaiting her exam results. The narrative follows the stresses of being a teenager as well as the additional stress of being a young girl being forced into marriage. Sufiya's book strongly ties in with her history of being a girls' rights activist.
Midway through her presentation, Sufiya selected a group of students from each year group to participate in a re-enactment of a traditional forced marriage ceremony, in order to demonstrate the disregard for a young girl's emotions when it comes to forced marriages. Towards the end, Sufiya gave the students the opportunity to ask her questions about her life and career as an author, and her published books.
Sufiya concluded her presentation by allowing students to buy her book and then, to the students delight, signing them. Each session provided eye-opening and at some points shocking information about the world's cultural differences and the struggles of forced/arranged marriages. It also gave an insight to students on the details and hardships of being an author and fighting the competition in order to get work published.
I myself enjoyed the personal anecdotes on the struggles of authorship as it gave me, and the groups of students, an understanding of the reality of the industry, as well as other cultures, that we otherwise wouldn't have been introduced to in lessons.
Hannah Doherty - 12OW / Chris Hill 12PD