Mrs Griffiths to Retire After 33 Years at Collingwood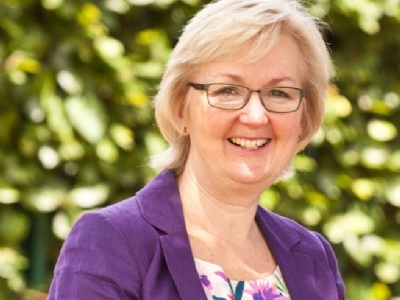 Mrs Griffiths has decided to retire from her current role as Co-Principal at the end of this academic year.
Mrs Griffiths started at Collingwood in 1986 as a maternity cover in the Maths Department. She became a full-time member of staff in 1991 and then gained a number of internal promotions to the senior leadership team before, in September 2013, being appointed as Co-Principal.
Mrs Griffiths has been an integral part of the College's management teams that have been consistently rated as 'outstanding' by Ofsted and has played a very major role in shaping the strategic direction of the College over many years. As Co-Principal for the last six years she has seen the College's results continue to improve, first preferences for admission to the College increase and a recognition in the local community that the College is, in the inspection team's words, 'flourishing and thriving'.
Everybody associated with her is aware of her very high standards and expectations and her relentless drive to provide the very best education for every single individual. More will be said about her contribution to Collingwood's success at the end of term!
With the departure of Mrs Griffiths, the Governing Board have asked me to take on the role of Principal in September which I have accepted. The College will then revert to the more traditional senior leadership structure of a Principal and two Vice Principals. Following an internal selection process I am delighted to inform you that Miss Watling has been promoted to the role of Vice Principal. She joins Miss Crocker who, as you know, is the other Vice Principal. From September these two posts will be renamed as 'Head of Upper College' and 'Head of Lower College' enabling these colleagues to have much more rounded roles as well as providing for a more structured support and communication system in each building. There are no planned additions to the senior team.
I anticipate a very seamless and smooth transition to the new structure in September with the aim of driving the College on to further improvement and to ensure it remains an excellent place for students to develop and for staff to work.
Mr Tanner - Co-Principal