Year 11 'Class of 2019' Celebrates in Style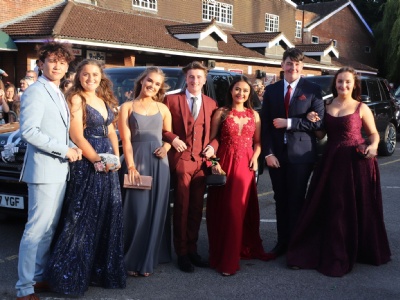 Collingwood College's 'Class of 2019' celebrated in style on Thursday 27 June with their Year 11 Prom. This year's event was held at Lakeside Country Club in Frimley Green.
The day began with a Celebration Assembly, designed and run by a committee of students who had worked exceptionally hard to organise the morning's festivities. The year group arrived in varying fancy dress costumes and enjoyed music and singing from students, as well as an outstanding staff dance performance. The students were especially delighted to receive a surprise visit from Mr Gregory who came to wish them well on their new journeys.
A number of Oscar Awards were handed out, for example 'Most Inspirational Teacher', 'Best Couple' and 'Most Likely to be the Next Prime Minister'. For the finale the traditional year group DVD was played and the assembly finished with a full Year 11 sing-a-long.
Later that day, the crowds of onlookers began to build at Lakeside (Frimley Green) in anticipation of the annual Collingwood Prom event. All applauded as Year 11 arrived in a variety of stunning vehicles including a double decker bus, sports cars, an American Police car and motorbikes. The students who have all just completed their GCSE examinations wore eye-catching suits and elegant gowns and were treated to a meal, traditional sweet stand, disco and the chance to use the photo booth. Additional awards were also granted for snazziest dresser, best dancer and of course Prom King and Queen.
I would like to thank all the staff for their help during the day and also for attending the Prom to support the students. It was wonderful to see so many parents, friends and students past and present at Lakeside to watch as everyone arrived. A reflection of the level of support they have received during their time at Collingwood.
Year 11 and I have only had the last 10 months together as a team, so I find it astonishing that they have achieved so much and developed so considerably in such a short time. Thursday's day of celebration afforded me the opportunity to step back and view what kind, considerate and accomplished young adults they have become. It has been a privilege to be just a small part of these young people's journey and whilst many are remaining at Collingwood to attend 6th Form, it is certainly an end of an era for them all.
This group of students have achieved so much in their five years at Collingwood and I have no doubt that they will all go on to achieve at the highest level in the future.
All staff wish the year group the very best of luck for results day! More photos of the celebrations will be available to view on our website in the near future.
Miss Gulliford (Year Manager)