Collingwood Student Wins Gold at Lacrosse Euros!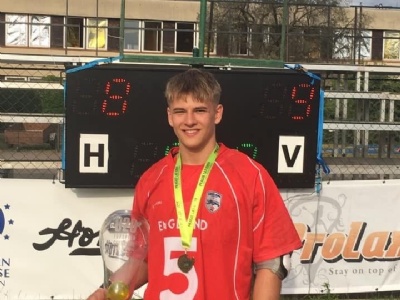 From Saturday 29 June until Saturday 6 July Chris Hockey (Year 12) competed with the England U20s team at the Lacrosse European Championships in Prague and won the Gold medal.
Here are his reflections on an amazing experience:
"Being able to represent my country at such an event was truly unbeatable. Especially being the underdog and going on to captain the team to a win against Germany in the finals was indescribable.
With dominant wins against Latvia and Wales in the pool stages, our only loss was against Germany, and was certainly a reality check.
From there we kept our cool and moved on with a mentality that kept us in the present and guided us to a quarter final win against Israel. Our campaign had led us to the semi-finals where we beat Ireland 6-5 in sudden death overtime, which was truly an unforgettable feeling.
The final was against Germany, the only team we had lost to. With the stadium and venue packed we did the unexpected, coming from 5-2 down after the first half, to winning 9-8 in the last minute.
It was truly an honour to be able to captain the side in the final and is something that will always remain a huge part of my life, alongside being u20 European Champions and gold medallists."
The College is incredibly proud of Chris' achievements this Summer. We wish him all the best in his continued journey with Lacrosse, both at National and University level.
Mr Woods - KS5 Curriculum Leader/Sixth Form Personal Tutor