Celebration of Student Achievement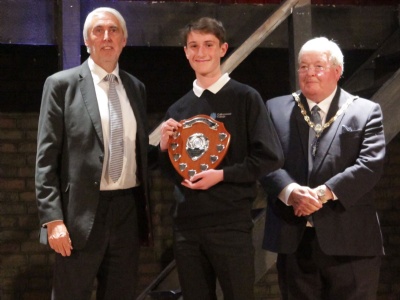 Students' achievements celebrated at special evening.
Last Tuesday, a celebration for a broad range of student successes took place in Kingston Theatre, as teachers, governors of the College, and even the Mayor of Surrey Heath, Cllr Robin Perry - as well as the Mayoress Jill Boxell - presented awards throughout the evening. Students were recognised for outstanding sporting achievements, their leadership skills, academic excellence and making outstanding progress in their learning; an audience of proud parents looked on. Students with at least two years or more of consecutive 100% attendance were also acknowledged; some students had not missed a single lesson in four years at Collingwood - a wonderful achievement.
Older students who had made an outstanding contribution to the life of the College, as well as those showing great fortitude and resilience in overcoming difficulties, were also celebrated.
The Head Girl at Collingwood, Millicent Brodie Cooper, and Deputy Head Girl, Darci Goulty, were Masters of Ceremony for the evening. They were also joined by our newly appointed KS4 Head Girl and Boy, Elizabeth Walker and Dylan Wright, who presented two of the awards on the evening.
The awards were interspersed with some outstanding student reports, which covered many of the exciting events from 2018-19 such as, the expedition to Vietnam and Cambodia and the Year 9 Football Team. We also had an excellent performance from a selection of the We Will Rock You cast accompanied by Jake Pang on the piano.
Our pride for all of our students' success is key in the College community and ethos, and we were delighted to be able to celebrate this formally and publicly.
More photos will be available to view here on the website, on the 'Recognition of Achievement' page in the near future.
Miss Angell - Event Co-ordinator