Students Attend Maritime Roadshow for Girls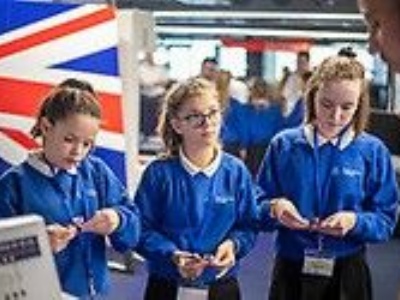 15 selected girls attended the 'Maritime Roadshow' event at the INEOS headquarters on Friday 11 October.
The students received talks from great female role models to demonstrate what they can achieve, despite being a female in a competitive industrial environment. The aim of the event was to inspire and engage girls in STEM careers and to showcase the world of opportunities for the next generation. There were a range of activities throughout the day that included the following:
Inspiration Zone - 'Speed-networking' session with female STEM employees
People Like Me – To identify their skills and link them to female STEM role models
Growth Mindset - To explore how they learn best and how to be academically resilient
Investigation Zone - Hands-on STEM activities from messy chemistry to America's Cup technologies
Product Design - A product design challenge to explore how engineers and designers work
Panel Discussion – Talks from several inspirational females about their STEM roles.
Our students demonstrated their thinking and creative skills whilst in the investigation zone by designing a boat that sailed the quickest. The students were great ambassadors for the school.
Mrs Puri - Science Innovation and Achievement Lead and STEM Co-ordinator