Mock Election Candidates are Visited by Rt Hon Michael Gove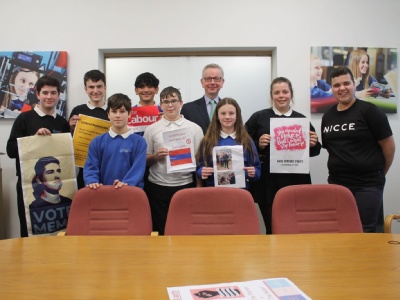 Election candidates prepare for Thursday's ballot.
The eight candidates for the Collingwood Mock Election have been extremely busy in the past week or so. They have addressed six assemblies - each year group, including Sixth Form, been involved in opinion-polling, and have been granted the honour of an audience with the Rt Hon Michael Gove, MP for Surrey Heath.
The assemblies have been thoroughly enjoyed by both the candidates and the students in the audience. With the candidates becoming more and more confident in their delivery, they have equally been more effective in trashing their opponents' arguments! Policies regarding Brexit, the NHS, Education policy, the environment, all got a good airing, as well more "local" issues such as homework, mending fences, uniforms, and ...er… speedbumps in the corridors.
What has been particularly striking has been the power of the teamwork of each party, and it was a pleasure to invite supporters also to meet Mr Gove. Both the supporters and the candidates had a wealth of questions to pose him, from "What's it like working with Boris?" to "Why did you want to be an MP?" to aspects of Brexit, hospitals, schools, electric cars, the Middle East situation, amongst others. You will have to ask those present for Mr Gove's answers!
Mr Gove posed for photos, and several selfies, and chatted with individuals before he left. Whatever position our candidates took on various issues, they were all very pleased to meet him. Sadly Brahma Mahontey, the Labour candidate who was also due to come, had fallen ill the night before and had to call his visit off.
Many thanks are due to the Year Managers who gave up assemblies for the project, for Mrs Ashton in Reprographics for a range of admin and candidates' posters, to a range of student helpers, but most of all the candidates (with their teams) themselves, for the arguments, the policies and all the amazing sheer fun they have brought to the process.
Let the best candidate win... because he/she will be presenting their policies to the Governing Body on Friday!
Mr Bunter - Mock Election Co-ordinator