Mr Gove Visits Collingwood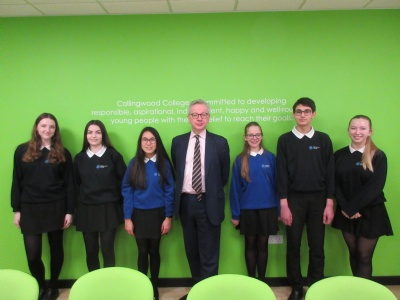 The local MP for Surrey Heath, Mr Michael Gove, visited Collingwood on Friday to listen to GCSE Citizenship students lobby on an issue that they cared about.. They gave presentations on a range of issues as part of the Active Citizenship element of their GCSE.
The first group, made up of Lauren Jones, Edith Bentley and Sophie Harkness, lobbied to change the voting age from 18 to 16 years old. They argued that it would encourage good voting habits in the next generation and that their research shows that 16 year olds can be trusted to cast considered votes. Mr Gove was very impressed and responded thoughtfully to the points raised. He gave counterargument that since the average life expectancy is increasing, we should raise all responsibilities to age 18 to compensate for this.
Aleksander Ślęzak was the second person to present a very detailed and convincing presentation on the value of changing funding in relation to tuition fees. Mr Gove was so impressed he suggested that Alek be the Education Minister. Alek said that ''Mr. Gove's visit was a great experience, allowing students such as myself and others to raise our views and concerns to a public figure. I was satisfied that Mr Gove listened carefully throughout, so that he could complement and raise his own concerns at the end regarding the content of the presentations." Alek went on to note that "it was the interaction and his comments that I greatly appreciated and found useful regarding my Active Citizenship project".
Charlotte Manchester and Anna Man were the final group to present on introducing new methods of voting to increase voter turnout in elections. They presented confidently and clearly and Mr Gove was even more impressed when he realised that they were only in Year 9.
Mrs Wright added her praise and Mr Magness can be proud that diligent preparation paid off. They were very grateful to Mr Gove for taking the time to help them with their Citizenship projects and explained that they "enjoyed the opportunity to express our opinions on behalf of the student body." Lauren said that "it was "good to be challenged by Mr Gove, but I haven't changed my mind and will continue to campaign for positive change".
Mrs Ospina - Social Sciences Department