Year 7 Boys Triumph in District Final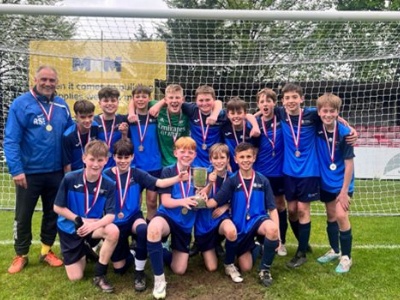 On Thursday 11 May our Year 7 team travelled to Aldershot Town FC's EBB Stadium to play in the District Cup Final.
Understandably they were nervous – our opponents were Tomlinscote who had beaten us in our first game of the season 2-0 and are a very good side.
We had a bright start, with the game well in our control, but as expected Tomlinscote began to generate some concerns for us.
It was with delight then, that nearing half time, after a great 3rd man run, that Freddie Hoare popped up to lob the on-rushing goalkeeper.
Quietly confident at half time the team fell into a classic trap of overplaying at the back which led to a mix up and a subsequent penalty that Tomlinscote converted.
The rest of the match was cagey to say the least.
Penalties!
Whether you convert or not, it is always nerve-wracking and takes great personal courage to step up.
So well done to our six penalty-takers, but with Christian Higgs in goal we always have an edge especially when he is doing his Bruce Grobbelaar legs (the older ones reading this will know who he is, the younger ones – look it up on YouTube!)
Eventually we triumphed in sudden Death 5-4!
The lads deserved this after a great season (they are a smashing group of young men) – I am already looking forward to next season.
Trials/training will resume in September – as always all are welcome – we move to 11-a-side, so I am looking for more players.
Squad: Christian Higgs, Leon Jessop, Josh Mears, Josh Page, Harry Phillips, Eli Loveday, Adam Robson, Freddie Hoare, Jacob Sturt, Ethan Clark, Bradley McKinnon, Will Harris, Aston Dempsey, Sam Padina
Mr San Emeterio - KS4 Progress Leader / PE Department