Former Students Receive Gold DofE Award at the Palace!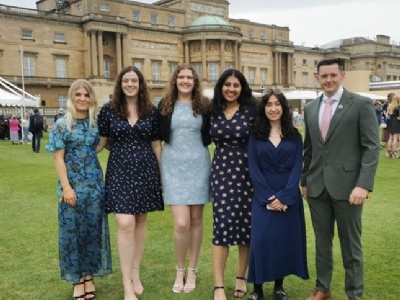 On Friday 19 May 2023 six former Collingwood students attended the Gold Award Buckingham Palace Garden Party celebrations accompanied by myself (Mrs Magness) and their proud parents.
The event honoured the extraordinary accomplishments of young individuals who successfully completed the challenging requirements of the Gold Award, showcasing their resilience, leadership and commitment to personal development:
Mia Jones – currently working for the Animal and Plant Health Agency in Addlestone

Megan Jones - currently completing a Veterinary degree at Staffordshire University

Tate Willing – currently completing her Teach First Qualification in Maths at Liverpool

Tom Perkin – currently studying Engineering at Swansea University

Shree Singh – currently studying for her Law degree at Chichester University

Jessie Whitehead – currently completing her Physical Geography degree at Aberystwyth University.
The day began with tea and cake in Buckingham Palace gardens whilst listening to well-known, upbeat tunes played by the bands of 'His Majesty's Royal Marines Collingwood' and the 'British Army Sandhurst'. There were plenty of opportunities to take photographs in and around the gardens too!
At 11.00am HRH Prince Edward Duke of Edinburgh gave a speech to congratulate all awardees, before handing over the stage to a Gold Awardee, Lyndon Howson, who spoke about how his completion of the Gold Award had helped to give him something to focus on during a worrying time in his life fighting cancer. Jill Scott, MBE (former England professional football player) finished the speeches with some truly inspiring words of encouragement and motivation for the young people in attendance.
After the speeches, a 'meet and greet' opportunity took place where the Duke of Edinburgh spoke to and congratulated as many awardees as possible whilst Jill Scott kindly obliged to the many requests for 'selfies!' There was also an opportunity to listen to many other inspirational speakers who occupied the satellite stages positioned around the palace gardens. These included Charlie Boorman, Dwayne Fields, Sally Orange, Susannah Townsend, Katherine Kelly and John Simpson, CBE.
The day marked the pinnacle of the young people's journey, an achievement that will undoubtedly open doors to new opportunities and inspire others to embrace their own challenges. The event not only celebrated the accomplishments of the award recipients, but also highlighted the importance of programmes that encourage young individuals to push their boundaries, strive for excellence and become future leaders who will shape the world.
Collingwood College looks forward to supporting many more young people through the Bronze, Silver and Gold levels of the Duke of Edinburgh Award over the years to come, and hopes as many young people as possible decide to take on the challenge!
Mrs Magness - DofE Co-ordinator / Head of Geography Department