Students Become Journalists for the BBC News School Report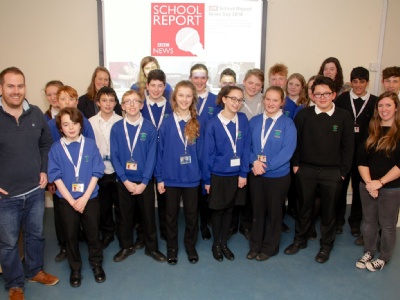 Years 7 to 10 students participate in the BBC News School Report.
Last Thursday (10 March) saw Collingwood's gifted and talented students take part in the annual BBC News School Report. The day saw twenty students take on the role of amateur journalists, reporting on topical issues such as gender equality, gun control and our amazing students for whom English is an additional language. Armed with cameras and a brain full of ideas students went out into the journalistic field, interviewed members of staff and created news reports worthy of their amateur student status.
After editing their videos and recording Newsnight style radio debates in Mr Middleton's media suite, their efforts were uploaded to the Collingwood specific BBC School News Report webpage and linked to the BBC News webpage itself.
The day was topped off by a visit – organised by Dr Jones and her GCSE journalism class – from the BBC World News Digital Editor, Bethan Jinkinson, who gave a wonderful presentation on the future of news journalism.
Thank you so much to Mr Middleton, the library staff and to the teachers who took time out to be interviewed by the students. The day was a great success and hopefully will become bigger and better next year. Finally a massive thank you to the students who went about the whole day with such enthusiasm:
Year 7
Anna Welch 7E
Daniel Sawyer 7F
Ellie Wheeler 7F
Pelham Wright 7F
Dylan Wright 7I
Year 8
Samuel Attard 8A
Carys Burrows 8A
Hannah Boast 8D
Lauren Coles 8D
Jack Bunce 8K
Year 9
Max Runacres 9C
Tommy Bolton 9F
Edward Holbrow 9F
Darci Goulty 9G
Millicent Brodie Cooper 9H
Year 10
Mia Jones 10A
Matthew Rousou 10B
Tate Willing 10C
Jamie To 10F
Calum Wright 10G
Mr Collins - English Department