Year 8s Retain District Cup!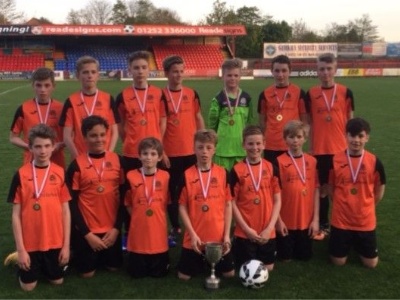 On Tuesday 3 May our Year 8 football team beat Salesian College 3-1 to retain the District Cup.
On Tuesday 3 May the Year 8 football team played Salesian College in a repeat of last year's district football cup final. The game this year was played at Aldershot Town FC and the boys certainly found out how big the pitch was!
We started off brightly and the majority of the first half was played in the Salesian half. Making the most of the big pitch the boys moved the ball and enjoyed playing on the majestic surface. About 15 minutes in, a free kick was awarded and some quick thinking from Oli Ewing resulted in an excellent 30 yard diagonal ball for Stanley Grosch to control superbly and dispatch over the oncoming goalie. The rest of the first half was played out with a few chances but nothing coming. 1-0 half time.
The second half began and the boys started slowly allowing Salesian back into the game with plenty of possession. Alex Emery was having a superb game at left back making some very important tackles. Josh Ford then produced a little bit of magic on the edge of the box to allow Charlie Hawes to slide in and score to make the game 2-0. Soon after we allowed Salesian back into the game with a well taken goal. The boys showed excellent character and we struck back almost instantly with some excellent play by Stanley down the left, allowing Jakob Carl in to score, making the result 3-1.
The rest of the game went by very smoothly for the boys and the final whistle was blown to rapturous applause from the Collingwood support. I can't put into words how proud I am of the boys for the season they have given me once again.
They have gone another season undefeated in District football winning every league and cup game, playing some excellent football along the way. The boys have played 15 games this season and scored 62 goals and only conceded 9! It is a pleasure to manage these students and I can't wait for Year 9 football to start in September! I must pay thanks to all parents who helped out during the season, driving the boys to games when needed. Your support has been greatly appreciated.
Year 8 Squad: Joe Fitzjohn, Matthew Barnett, Cameron San Emeterio, Joe Terry, Alex Emery, Stanley Grosch, Oli Ewing, Josh Ford, Sean Cullen, Jakob Carl, Charlie Hawes, Kyle Odendaal, Dan Simmonds, Jonathan Marsh.
Mr Andrews - Year 8 Football Manager