District Athletics Success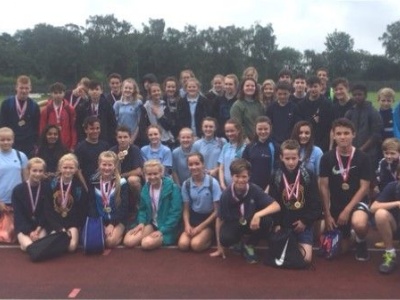 Collingwood students achieve success in all events at district athletics competition.
On Thursday 23 June the Year 7, 8 and 9 Athletics teams descended on Sheerwater Athletics tracks for the yearly District event. Hopes were high at the start of the day and the students certainly didn't disappoint! Throughout the day we had successes in all events and it must be noted that all students were an absolute credit to Collingwood College.
In the Year 7 girls' team particular successes were achieved for Emily Dillamore 7E (Gold in 100 m, 200 m and Relay), Jules Rabey 7E (Gold in 800 m and Relay) and Maya James 7G (Gold in Javelin, Long Jump and Relay). Jules broke her own College record in the 800 m (2 min 35 s), Maya also broke her own Long Jump College record (4 m 20 cm) and the Javelin College record with a massive 31 m 56 cm! Out of the eleven events in the Year 7 girls' competition our girls won an incredible six. Unfortunately though they were beaten by one point to take second place!
The Year 7 boys also had an incredible day with particular successes for Jonny Chapman 7E (Gold in 200 m, 800 m and Relay), Max Duckworth 7E (Gold in 1500 m and Relay), Sam Hillman 7G (Gold in Long Jump, High Jump and Relay). Jonny broke his own College record in both 200 m and 800 m (28.8 s and 2 min 29 s) and Max broke the College 1500 m record (4 min 54 s). Just like the girls the boys won an incredible six out of eleven events on the day as a team and overall took home the Year 7 boys' competition by a clear ten points!
The Year 8 students also had a good day with notable performances from Eden Hogston 8G (Silver in 200 m), Ella Newman 8G (5th in 100 m) and the girls' relay team also made the final coming in fifth. The boys' notable performances came from Jakob Carl 8I (Gold in Long Jump and 5th in 100 m), Giles Rhoden 8J (4th in 800 m) and Matthew Hill 8A (4th in Shot Putt). Jakob also broke the College Long Jump record with a huge jump of 5 m 9 cm.
The Year 9 girls' team had a mixed day with Kathryn Beckett 9F (3rd in 1500 m equalling the College record), Hannah Barratt 9A (4th in 800 m) as the stand out performances. The Year 9 boys' team performed incredibly well. Spurred on throughout the day by the Year 7 successes they didn't want to be outdone! Out of the eleven events on the day the Year 9 boys won five. Stand out performances were Owen Heard 9F (Gold in Hurdles, Relay and 3rd in Long Jump), Tom Handley 9A (Gold in 200 m and Relay) and Luke Mann 9C (Gold in Triple Jump and Long Jump). Overall the Year 9 boys finished second by seven points.
The following students also achieved new North West Surrey Records:
Maya James Year 7 Girls Javelin 31.56 m
Tom Handley Year 9 Boys 200 m 23.15 s
Owen Heard Year 9 Boys 80 m Hurdles 11.77 s and Year 9 Boys Relay 47.54 s
The day was a huge success for the College as a whole. Teachers from other schools commented throughout the day on the standard of our students' performances and it was a pleasure to see. Our students won and lost with dignity in all events which is something we work hard on in the department to instil in our students.
Mr Andrews - PE Department