Year 11 'Class of 2016' Celebrate in Style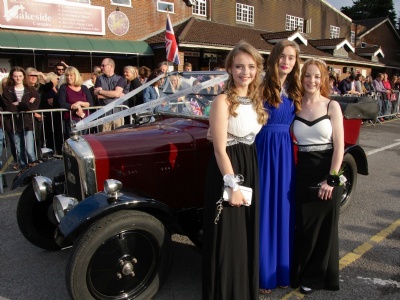 Collingwood's 'Class of 2016' celebrated in style on Thursday 30 June with their annual Prom.
This year's event was held at Lakeside Country Club in Frimley Green.
Earlier in the day the students had taken part in their Leavers' Assembly, designed and run by student committees who had worked hard to organise the morning. The year group arrived in varying fancy dress costumes, awards were handed out to staff and students, e.g. for 'Most Inspirational Teacher', 'Best Hair', 'Most likely to be Prime Minister', 'Best Couple', etc. and members of teaching staff also performed an act for the students before the traditional year group DVD was played; again having been filmed by students from the year.
An amazing 280 students joined staff for the evening, arriving in an array of vehicles, including party buses, limousines, sports cars and mopeds. The teenagers who have all just completed their GCSE examinations wore eye catching suits and elegant gowns and were treated to a meal, disco and the chance to use the photo booth; there was also the opportunity to have their photo taken professionally. This year's Prom had a 1920's Great Gatsby theme for the staff and the venue had been decorated in keeping with this.
I would like to thank all staff for their help during the day and also for attending the Prom to support the students. It was wonderful to see so many parents and friends at Lakeside to see the students arrive, again a sign of the level of support they have received during their time at Collingwood.
Thanks also have to go to the students who organised the Assembly and/or took part in it. The whole year group were a great credit to staff, parents and of course themselves.
Having been with the year group since they started at Collingwood it was an absolute pleasure and privilege to be involved in the whole day; they have matured into a wonderful group of young adults with so much to give. I have no doubt that they will all go on to achieve at the highest levels, whatever they plan to do in the future.
At the end of five years at Collingwood it was a fitting send off for all the students although many will return to Collingwood's Sixth Form in September. All staff wish the year group the very best of luck for the future! More photos can be found in our Year 11 Prom Photo Gallery.
Mrs Goggin - Year Manager - Year 11