Collingwood's Horticultural Star of the Future - Molly Hall (9D)!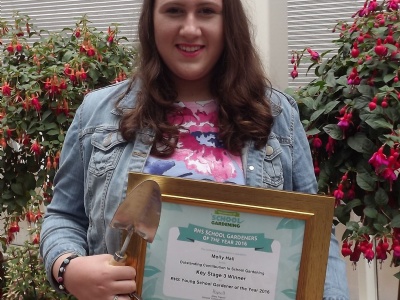 Molly wins the RHS Key Stage 3 Young School Gardener 2016.
We are proud to announce that Collingwood College has a national winner and a future rising star in the world of Horticulture and Gardening.
In May, Molly Hall was chosen from thousands of entries across the country to be a finalist in the Royal Horticulturalist Society's 'Young School Gardener of the Year 2016' competition for Key Stage 3. To win this stage outright, Molly was given a camcorder and asked to submit a 5 minute film of her gardening achievements to the panel of judges consisting of gardening experts and TV gardening personalities.
With Mrs Seys' help in editing the film, Molly's gardening story was submitted to the judges and beat off the competition to win the Key Stage 3 title of Young School Gardener 2016. Mrs Seys said that "as soon as I saw the footage I knew that Molly's film was going to be hard to beat." The film tells Molly's story of how she discovered a new variety of Bell Heather on Frensham Common when she was 12. It is now part of the RHS National Heather Collection and is named 'Molly Rose' after her. She goes on to demonstrate her propagation skills and gardening knowledge and at the emotional heart of the film is Molly's story of how she was commissioned by the Heather Society to save the last remaining specimen of an old lady's heather variety which had been discovered and named after her deceased husband. Molly took cuttings and rescued this plant from extinction to the delight of the family, adding it to Wisley Garden's National Heather Collection.
Mrs Seys' involvement with Molly's nomination for the competition came via teaching Molly in her Extended Projects Year 9 option class. Molly took full advantage of the opportunity to develop new skills and expand her gardening knowledge into the area of garden design. Her Project: 'Greening the Grey: How to Design a Hampton Court Flower Show Garden' led her to design and build a model Show Garden, seeking advice from horticulturalists and feedback from the RHS show organisers. The Hampton Court show experts were so impressed with her skills that they have asked her to re-submit when she is 18. The School Gardening judges had never before seen garden designs submitted as part of the entry and were hugely impressed by them.
Molly, her family and Mrs Seys attended the official prize-giving ceremony held at RHS Wisley Gardens on Saturday 2 July.
With the prize money awarded to the College, we would like to task Molly with helping to design and buy plants for the new 'Garden of Reflection' that is being planned for the entrance to Barossa Building. Molly has also been commissioned to design a garden for a wider stage: it looks like her Hampton Court dream is coming true earlier than we anticipated. At the Wisley ceremony, Molly was approached by the RHS who told her that they would like to work with her and produce a garden at Hampton Court Flower Show in 2017, adapting her design to a school classroom. Everyone involved in this project is so proud of her and the rapid direction that her possible future career may be heading. Mrs Seys' final words on the film were quoted by the judges: "If Molly represents the future of horticulture, not only will it be in safe hands but it will be very exciting too." This is a future star to watch out for.
Mrs Karen Seys - Head of Extended Projects