Year 11 Students Get a Taste of Sixth Form Life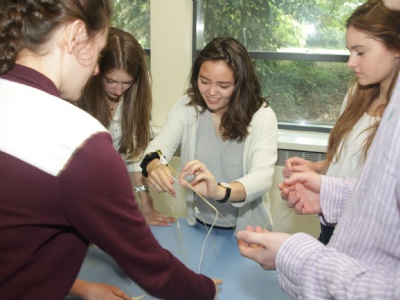 Prospective Year 12 students enjoy Induction Day.
On Tuesday 28 June, Mr Woods and the new Senior Prefect Team put together, and successfully ran, the Year 11 into Year 12 Induction Day, to give the new Year 12s a taste of the Sixth Form. The day went incredibly well and our new Year 12s were extremely enthusiastic and very willing to get involved. All of the activities were well received, especially the spaghetti tower, with the winning team reaching the height of 27 inches and the ever popular tug-of-war, which guarantees to reveal a competitive side.
When speaking to students after the event it was clear that they enjoyed getting to know different people throughout their year group, one student said "I had a great time at the Induction Day and despite having already spent five years with my year group, I still managed to make new friends and learn something new about those I had known for some time".
Leah Mansell - 12SM / Head of Events