Year 9 Student Wins Young Volunteer of the Year Award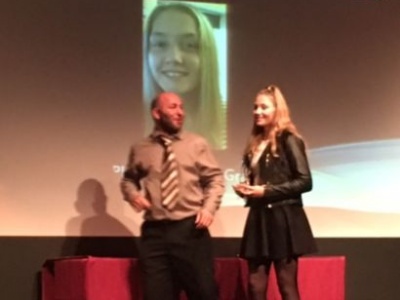 Phoenix wins award for her services to judo.
On Monday 17 October Phoenix Govey-Gray (9J) and her parents attended Surrey Heath's Annual Sports Awards at Camberley Theatre. Phoenix had been nominated for 'Young Volunteer of the Year' because of everything she does in her own time to help and encourage others in their judo. She attends seminars and meetings to keep herself up to date with rules and regulations as a junior referee and she also assists in the coaching of under 12s, taking them to competitions and coaching them during their fights. Phoenix was shortlisted as a finalist!
We are extremely proud to announce that she won the award and will be put through to the national awards in December!!!! She has also been nominated and shortlisted as a finalist out of over 300 nominations for 'Young Referee of the Year' at the British Judo annual awards in November!!
Many congratulations Phoenix!!!!