National Recognition for Khadeejah and Charlotte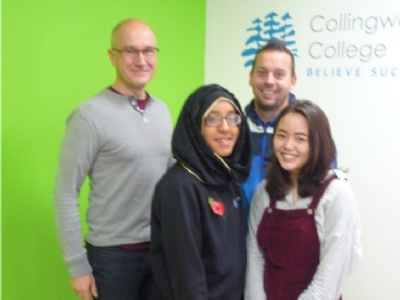 Khadeejah Hullemuth (10D) and Charlotte To (12JR) receive posts with national status.
We are delighted to announce that two of our students, Khadeejah Hullemuth (10D) and Charlotte To (12JR), have recently received posts with national status following their tireless work in the College and local community ….
Khadeejah Hullemuth
In late September the national youth consultation took place, named 'Make Your Mark'. As students may remember, they were asked to select which issue they deemed most important out of a list of ten. I brought this forward into Collingwood from the Surrey Youth Collective, a group of elected representatives that give young people in Surrey a voice. 'Make Your Mark' was incredibly successful, particularly in Surrey which gathered over 27,000 votes, with around 4,000 from Surrey Heath.
Having joined the Surrey Youth Collective, we then had the opportunity to apply to become a Member of Youth Parliament (MYP). This is effectively like MPs, just for young people who are either directly or indirectly elected. They make nationwide decisions concerning young people and act as a body that consult the government on the affairs for 11-18 year olds. There are about 300 MYPs altogether for England, Scotland, Wales and Northern Ireland. I am delighted to say that after submitting my expression of interest, and it being taken to an independent panel, my expression was accepted, amongst all the other applicants mine was approved, which means I am now an official Member of Youth Parliament!
Part of an MYP's role is to participate in the 'great debate'. This is where, having received the results from the 'Make Your Mark' ballot, they debate which two issues that should be campaigned on nationwide, with the government's support. This is why, on 11 November, MYPs sat at the House of Commons, debating which issue to campaign.
This has been such an incredible opportunity for me personally, being 1 of 5 young people in Surrey to have this chance. Only two groups of people are allowed to debate in Parliament on the green benches and I am both incredibly proud for myself and Collingwood, for being given this opportunity.
I would like to also thank Collingwood and all of its students, particularly my friends, for really supporting me and encouraging me to do my very best.
Charlotte To
Recently I decided that I would apply for England's Youth Anti-Bullying Board. I have been involved in anti-bullying throughout my time in the College and my experiences have inspired me to take this further. I submitted an application thinking little of it and was taken aback when I received a phone call telling me of my success. This involves several meetings with the board, which encompasses fifteen young people as well as valuable support from the Diana Award and Anti Bullying Pro in establishing the best possible scheme for our school and other schools across England. I am so excited to discover what this can provide for Collingwood and to be able to meet with the other 15 members from across England, learning from them. I am also very excited to have the opportunity of a trip to the Facebook HQ in Dublin. I really hope that it will enhance our wellbeing and anti-bullying scheme in Collingwood. I will keep the College updated with my role.
Stefan Nahajski (Eikon)
Eikon is a leading young people's charity committed to improving the wellbeing, resilience, mental health and aspirations of young people in Surrey and has been working in Surrey Heath for the last 10 years. The strategic partnership between Eikon and Collingwood is focussed on the wellbeing and personal development of the students in the College.
I am delighted about Khadeejah and Charlotte's achievements and it is lovely the way their stories are linked. The Youth Council ran the first Anti-bullying conference for local secondary schools 2 years ago and won a Diana Award for their work. Charlotte became an Anti-bullying Ambassador through that event and it was also about the time that Khadeejah joined the Youth Council. We're very proud of our work with the Youth Council and with Collingwood.
Surrey Heath's Youth Council is a hidden gem in the Borough. They have achieved so many things through the leadership of young people like Khadeejah and the other Youth Councillors. The partnership with Collingwood and other local schools and in particular the support of staff and students like Charlotte is vital to the work of the Youth Council. Youth Councillors have gone on to roles on the Surrey Youth Collective, UK Youth Select Committee and as Surrey Heath's Young Mayors, whilst always staying grounded in their work in the local area."
Mr Cleary (Assistant Principal)
Collingwood is very proud of both Khadeejah and Charlotte. A lot of the time this tireless work can go unnoticed and so the fact they have now received the recognition they both deserve, is brilliant. The work that both girls contribute to support their peers and younger students here at Collingwood as well as in the local community in the projects they are involved in, is not underestimated. However, none of this could have happened without the fantastic partnership we have with Eikon. The support network they provide is phenomenal. It is exciting times for both our Eikon partnership and for Charlotte and Khadeejah!