Success at the SHAPE KS3 Geography Quiz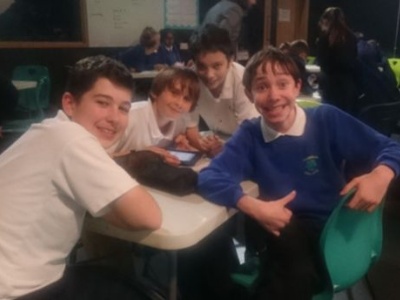 Students take second place at the annual KS3 SHAPE Geography Quiz.
Congratulations to the 12 KS3 students (listed below) who represented Collingwood at the annual SHAPE Geography Quiz on Tuesday 22 November. They were incredibly enthusiastic about the event and really did themselves and the College proud.
The students competed in 3 teams of 4 against other teams from Tomlinscote and Kings International College. The rounds tested the students' knowledge of flags from around the world, photographs of famous places, capital cities and general knowledge as well as their ability to guess the location from a list of factual clues.
One of the teams (including Magnus Brodie Cooper, Sam Scruby, Daniel Sawyer and Pelham Wright) did particularly well and were joint first place with a team from Tomlinscote by the end of the quiz. They were beaten in the tie breaker question but walked away with second place.
Teams: Isobel English 7C, Lucy Duckworth 7G, Tyler Hiton 7I, Tia Barnett 8B, Magnus Brodie Cooper 8F, Daniel Sawyer 8F, Pelham Wright 8F, Harrison Miles 8G, Megan Jones 8I, Shree Singh 8I, Samuel Scruby 8J, Jake McMurray 9K
Miss Evans - Head of Geography Department