Year 7 Boys Victorious in Tournament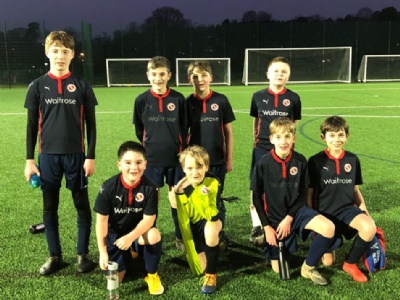 On Monday 24 January the Year 7 boys football team were involved in a round-robin football tournament hosted by Tomlinscote. The schools involved were Collingwood, Tomlinscote, Ash Manor and Farnham Heath End.
Collingwood's first match was against Ash Manor who equalised in the final minute meaning the game ended 1-1. The boys played very well and were unlucky not to hold on for the victory.
In their second game the boys faced Farnham Heath End. The boys played extremely well from the first to the final whistle and the 4-0 score line did not flatter them. On to the final match which was a winner takes all as Tomlinscote had won their first two games. It was a close game which Collingwood edged with possession and some excellent play throughout and with 5 minutes remaining they got their goal – a fantastic free kick from Finn Costello. Final score was 1-0 meaning Collingwood won the tournament.
Well done to the boys who were fantastic throughout!
Squad: Oliver Jakeman, Aidan Coe, Aidan Lakritz, Freddie Taylor, Finn Costello, Oliver Clarke, Matty Fortuna and Jacob Hobbs
Mr Chauhan - Senior Assistant Principal / Year 7 Football Manager