Years 7/8 Girls' Football Team Through to District Final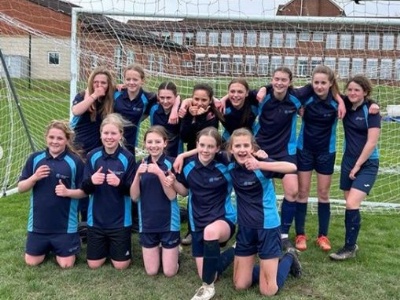 On Tuesday 28 March our outstanding Years 7/8 girls squad travelled to All Hallows School to play in the district semi-final.
In a hard fought match they won through on penalties. If you view our Instagram post you will see some of the successful (and outstanding) penalties and all of Amelie Hannah's three saves. A full report of the match will appear in the newsletter after Easter.
The district final will be played against Weydon School at Aldershot FC - details to follow.
Our girls have been tremendous this year; please see the full squad list below.
Squad: Amelie Hannah, Olivia Kendall, Lucie Haslett, Lucy Mallon, Skyla Hayes, Ella Terry, Ruby Davies, Maisie Graham, Sophia Lally, Lyla Thompson, Sophie Evans, Chloe Edwards, Keeleigh Tate, Ida Cook, Zoe Lampard, Lottie Kemp, Tilly Collins, Aoife Hollis, Eden Jolly, Elizabeth Hardy, Shauna Kavanagh, Lily Bond
Mr Cleary - Girls Football Manager / Senior Assistant Principal