Fujairah School, UAE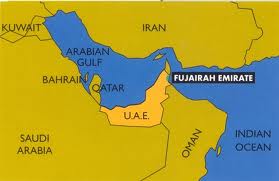 Fujairah is a coastal city-state situated on the coast of the Gulf of Oman in the Middle East, and is part of the United Arab Emirates. The UAE is a small country sandwiched between Saudi Arabian and Oman.
Collingwood's partner school in this region is a girls' school, called Fujairah Girls School for Basic Education. In the UAE all schools are single gender schools. The age range is 11-14, and there are approximately 500 students. Lessons are taught in Arabic and English. An important feature of this school is that they run a club for every subject, and each club has its own magazine. Our partnership began in 2007.
Our link with Fujairah is a curriculum based link to study the Environment. We have exchanged work with them on topics such as power stations and pollution. They have also sent us a short introductory video to their school which has been shown in registration classes.
The partnership link has been part funded by the British Council and we intend that our contact with the school will continue and possibly grow each year. The school is, in many ways, different to our own though, in many more ways it is the similarities between our different cultures and experiences that are obvious and immediate.